Bathrooms are very often overlooked when it comes to remodeling, but it's actually one of the most important rooms to focus on. Everyone uses the bathroom, so it's crucial that you actually spend some time thinking about how you could improve it with some simple, yet effective changes. So, if you're thinking about giving your bathroom a new lease of life, keep reading and discover out best bathroom remodeling ideas! Upgrade
Upgrade Your Towel Rail
One small part of the bathroom that is actually pretty crucial is the heating. Towel rails are a necessity if you want lovely, fluffy towels, but they can be a little boring. Why not go for something a little more fun that normal and try designer radiators instead. They come in all sorts of shapes and sizes, making them super exciting in an ordinary room. If you don't the space for a radiator, then you could go for something even more fancy and try underfloor heating.
This doesn't eat up any room at all and works perfectly for bathrooms of all sizes. This also means you can keep a small towel rail on one side to ensure you keep your towels dry, but the underfloor heating will also help to warm the entire room. Placing towels over the rails absorbs most of the heat, so you won't actually feel the benefit. Whereas with underfloor heating, you can heat the whole room and enjoy the sensation of toasty feet when you step out the shower.
Move Your Shower
Showers can actually take up a lot of space in a bathroom, especially if they have a bathtub as well. Typically, showers are placed on a certain side of the room, and it might not always be the best place for it. For instance, not all bathrooms have windows on the side of the room, and they tend to be towards the back.
In this case, it's best to have the shower underneath the window as it will not only open up the room, but it will also allow you to open the window and improve your ventilation. Sometimes it's even better to get rid of the bathtub completely and just have a shower as this will really give you more space and help the room feel not as closed off.
Reflection Is Important
Mirrors do a lot more than help you get ready for the day. In fact, having lots of mirrors in a bathroom can help it to feel bigger than it really is. The illusion of space can easily be created by having larger mirrors on the walls or even going as far as having a mirrored wall. Light bounces off the mirrors and will open up even the smallest bathroom that doesn't have any windows.
Add More Lighting
Lighting is important in a bathroom as some of them don't have any natural lighting at all, and they can easily feel dingy. Try having more bathroom lighting fixtures dotted around the room to bring a whole new light to the room. Something as simple as having a vanity mirror with lights fitted to it can make a massive difference. You want the light to bounce around the room and create a sense of airiness.
Having adjustable lights is also a bonus as you might not want to have the bright lights on while you're trying to relax in the tub, so have dimmer switches or smaller lamps that you can make use of when you need to.
Use Clever Storage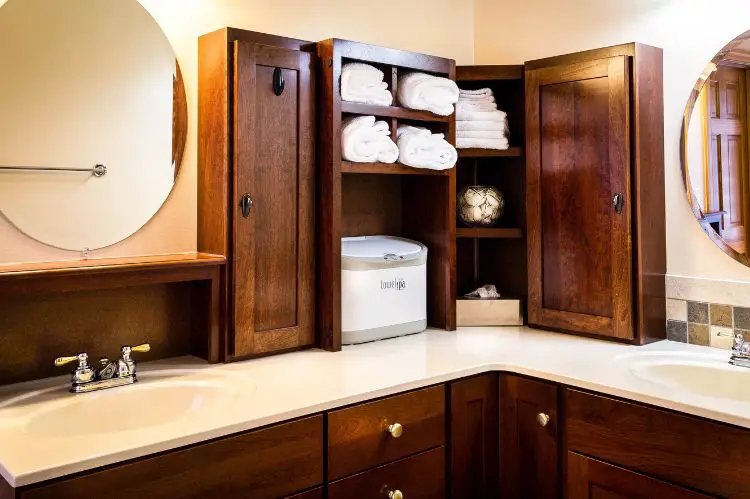 A lot of people forget about storage in a bathroom, but it's actually vital! If you think about how many bathroom products you have, it's probably more than what you have in any other room in the house, so it makes no sense to have no decent storage. Even the smallest bathrooms can benefit from storage, so don't let space put you off.
Things like floating shelves are an excellent choice for any size bathroom as they don't take up any floor space like other cabinets do. In bathrooms, you want the space to feel breezy and open, so keeping all your products tucked away nicely in stylish storage that doesn't take up the whole room can make a huge difference.
Less Is More
Sometimes, the statement less is more isn't true. But when it comes to bathrooms, it definitely is. The ideal bathroom should be clean in it's sense of styling, so taking a minimalistic approach can be better most of the time. Try limiting the number of differing patterns you have too. You could even transform it into one solid color of a room to make it feel cohesive and open.
READ MORE: Before And After – Open Concept Kitchen And Living Room
For example, tiling the entire room from top to bottom in an off-white and playing with dark elements when accessorizing can have a striking, bold look that will be timeless and remain chic for years to come. It will also trick the eye into thinking that the room is larger than it really is, so it's a brilliant trick for those with bathrooms on the smaller side.
Remodeling your bathroom doesn't have to seem like an impossible task. In fact, it's actually super easy to do when you take these tips into consideration. All bathrooms can be made to feel bigger with a few tricks and illusions using mirrors and light, so don't feel like your dream bathroom is unattainable if you don't have much space. So, if you're thinking of remodeling your outdated bathroom. Here are some best Bathroom Remodeling Ideas for you.