While planning a birthday party for your kid(s), there is something you need to consider as both your kid's and the guests' preference matter. These finest Encanto cake ideas will make sure you live up to the expectations of your kid (which is primary) and, of course, the party guests.
After all, it's your child's birthday, the day you and your kid have most probably been waiting for one year. Moreover, these Encanto cake ideas won't just be limited to birthday parties; they will also suffice for marriage or anniversary ceremonies.
20+ Best Encanto Cake Ideas
After doing some research, I have picked 20 best Encanto ideas that you might want to consider while throwing a party (birthdays, anniversaries, etc.)
1. Encanto Cake With Butterflies
The butterflies on an already delicious Encanto cake increase its beauty. You can also customize the cake as per your liking. However, what makes this cake stand out among many others is the cream door on it with flowers of any color you want over it.
2. Floral Encanto Cake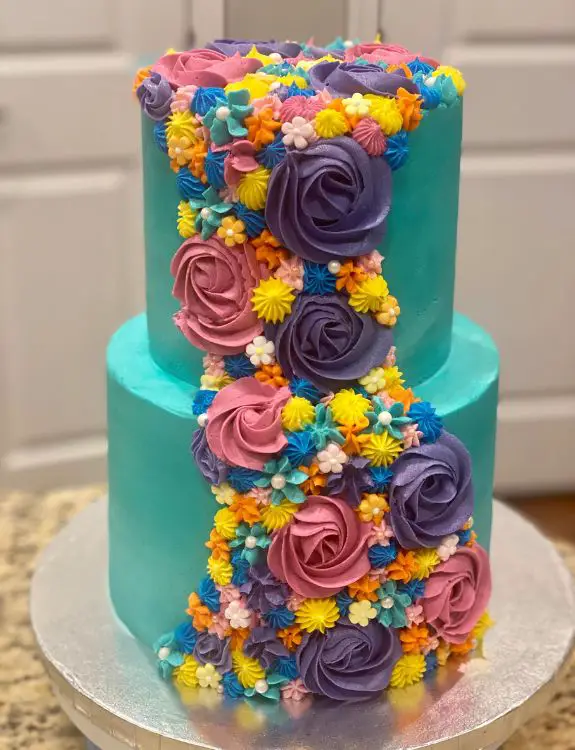 Many colorful flowers are created in such a way that they seem like they are falling down. This makes this Encanto cake even more appealing to everyone.
3. Encanto Cake With Candles & Butterflies
Candles and cakes go hand in hand. Simply put, if there's no candle to blow, then what's this whole excitement for? Moreover, a butterfly is also fitted on top of the cake to give it a unique and beautiful look.
4. Madrigal Encanto Cake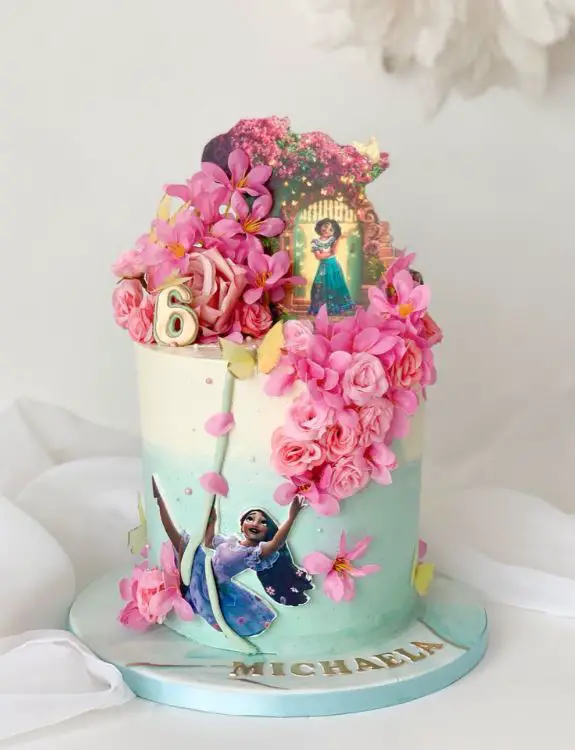 The detailed work done on this cake makes it appealing enough at first glance. Like other cakes, you can also customize them. Well, I think a creamy barbie doll on top of the cake looks amazing. You should certainly give it a try.
5. Encanto With Mirabel Topper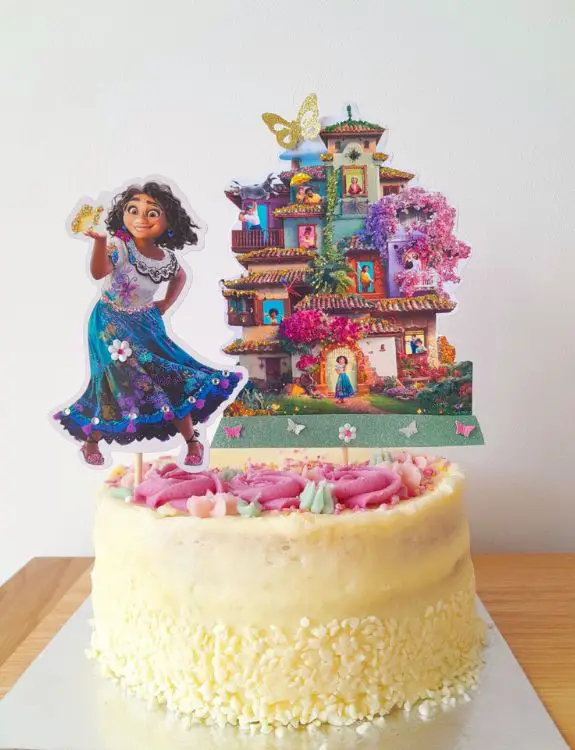 This Encanto cake design is among my favorites, along with others, which I'll discuss later. With Mirabel, Encanto sitting on top, and several butterflies around, give this cake a good look.
6. Isabella Encanto Cake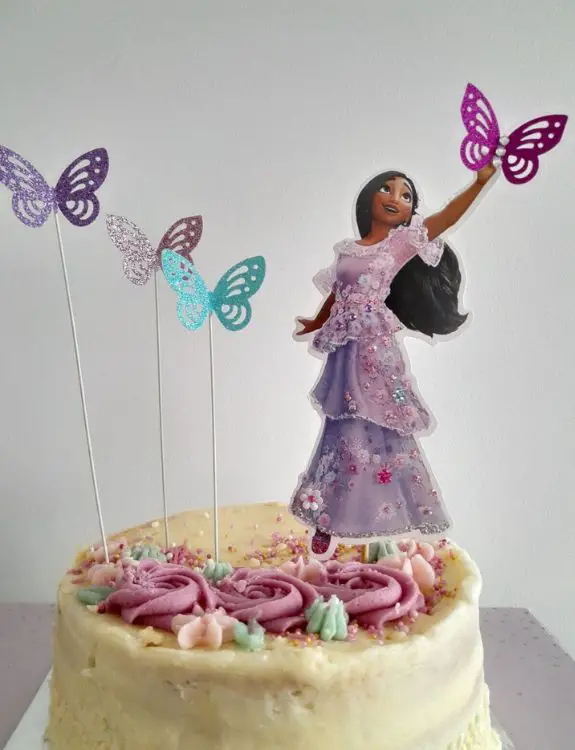 Some like Julieta Madrigal, some like Mirabel Madrigal, and if you're one of those who like Isabella Madrigal, this Encanto cake will suit you the best.
7. Blue Ombre Encanto Cake Design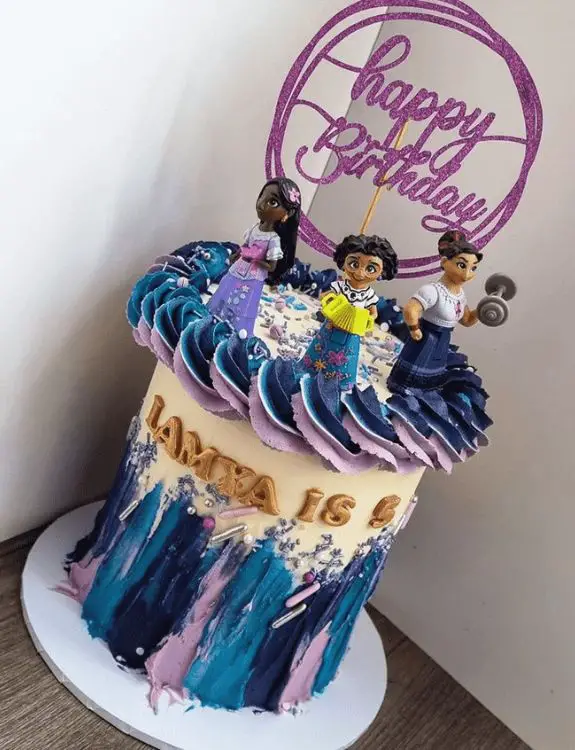 The blue ombre Encanto cake design is among the most popular cake ideas nowadays. A perfect idea for your kid's birthday.
8. Bold Floral Encanto Cake
This cake is also among the most detailed Encanto cakes with a bold design and colors. And it looks the best when appropriately customized.
9. Encanto Cake With Both Mirabel & Isabella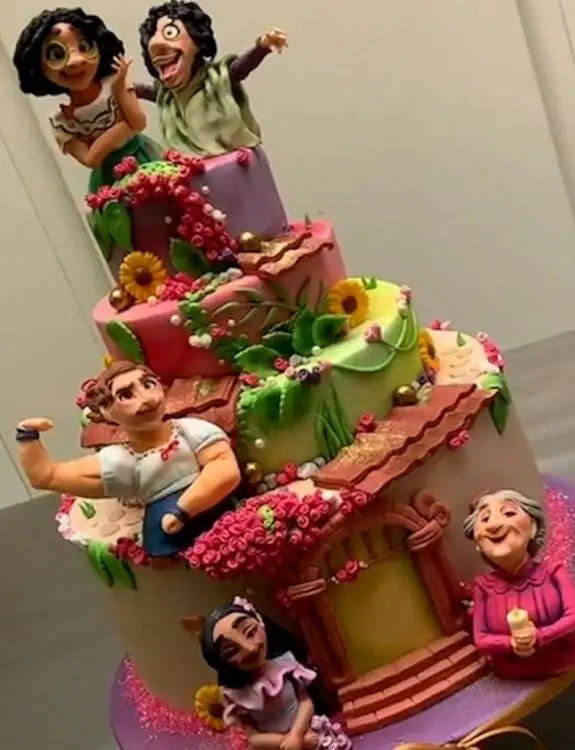 Even though Mirabel Encanto is the protagonist, Isabella often steals the spotlight with her charm, just as she has on this cake.
10. Encanto Cake Mirabel & Casita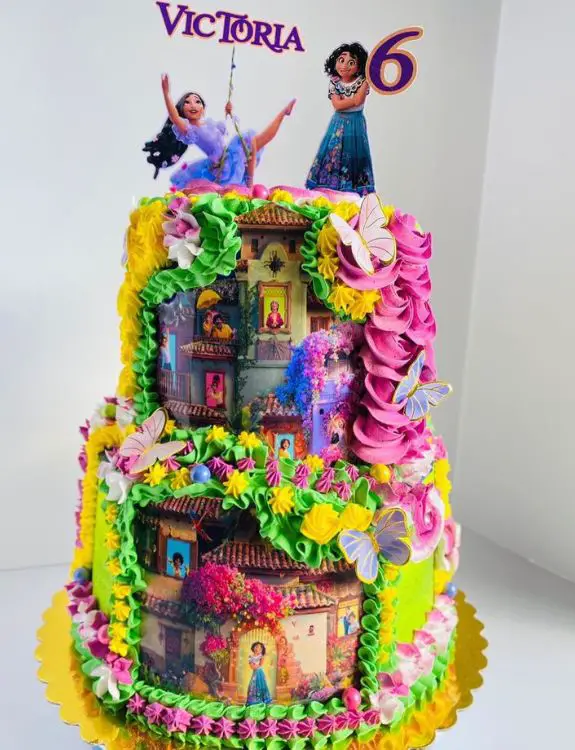 With Mirabel, Encanto standing on top of the cake and other details make it engaging and tasty even before tasting it.
11. Encanto Cake With Protagonists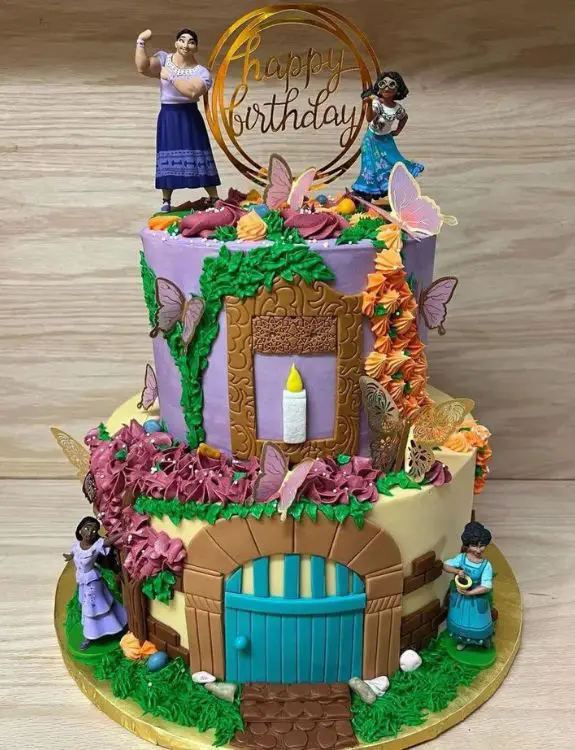 Many of the female protagonists like Isabella, Mirabel, and Julieta give this cake design an energetic and beautiful look.
12. Colorful Purple Cake Design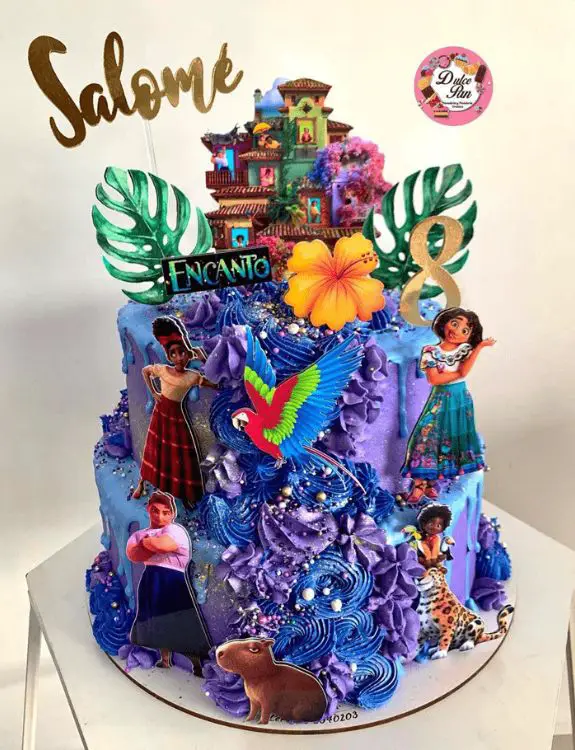 I'd say this cake design is among the most complicated, yet, if baked correctly, you won't find any other Encanto cake design other than this.
13. Mirabel Encanto Dress Design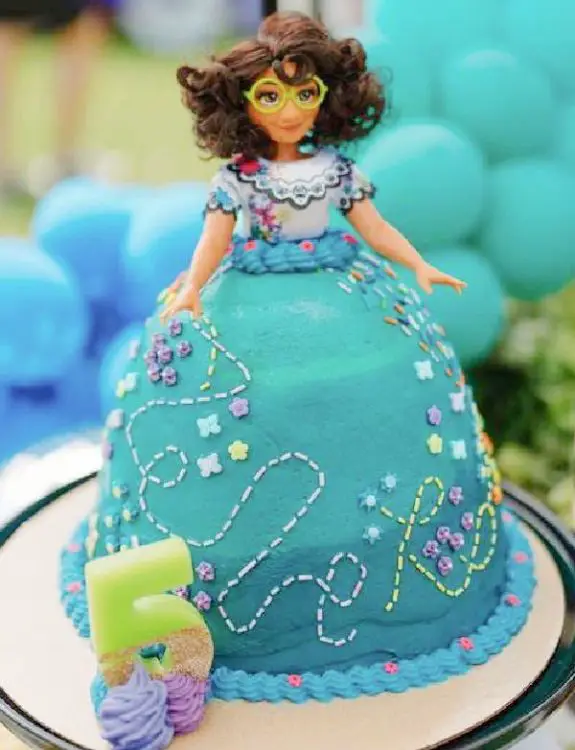 Another cake design with a detailed resemblance to Mirabel's dress. In other words, whatever you'll find on her dress, you'll find on this cake.
14. Cake Pops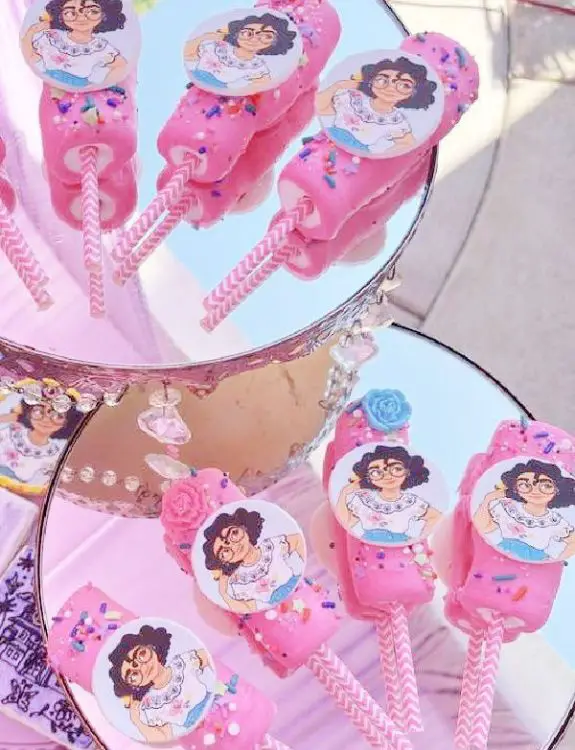 Not exactly a cake but an Encanto cupcake design. The taste of these cupcakes would be worth your money, and yes, they are quite affordable.
15. Encanto Cake For Boys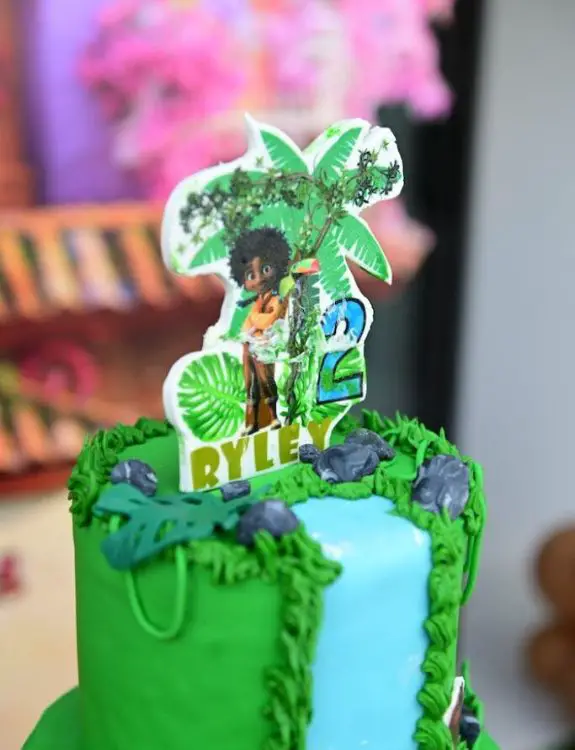 You might be thinking I am talking only about girl cake designs. Here you go, then. This cake would be a great choice for your son's birthday. The green color on the cake makes it even more masculine and attractive. You can also make your son's favorite Disney character to add a spark to the party.
16. Casita Madrigal Cake Design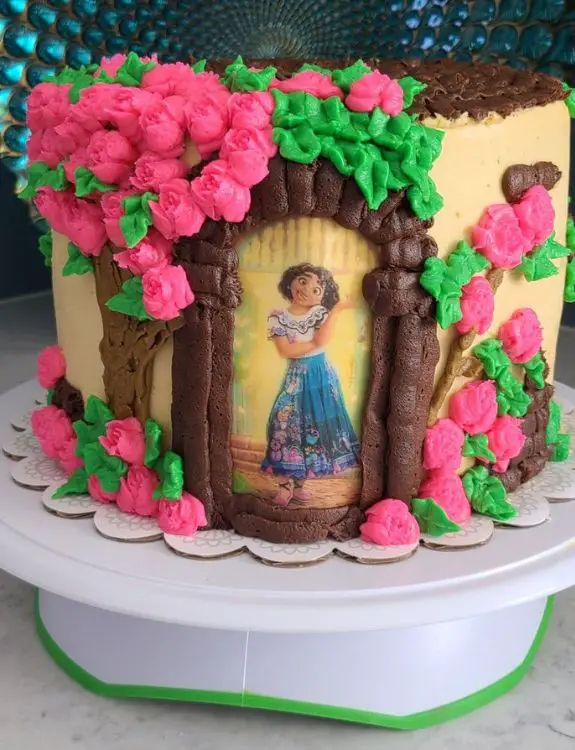 Yet another cake design with few of its kinds. The complex texture and addition of many other movie characters give a great look.
17. Mirabel Encanto Cake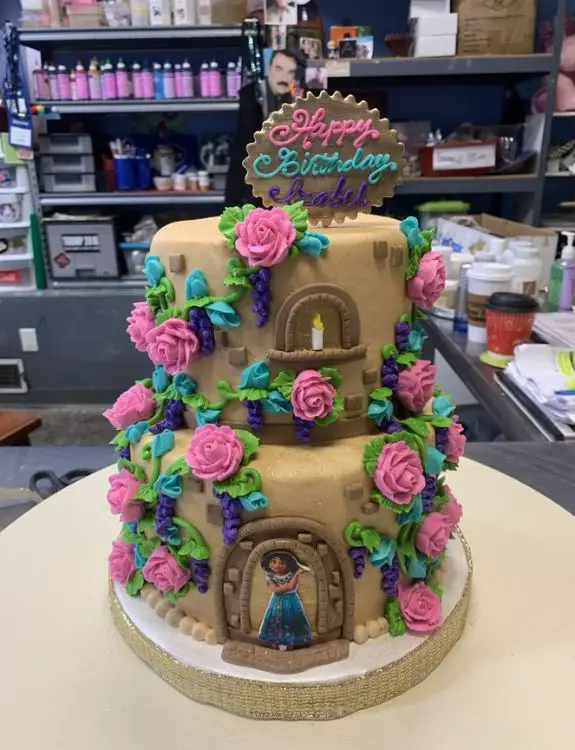 Finally, a cake that looks entirely like our beloved Mirabel Encanto. Interestingly, you can bake it at home, and with some effort, you can literally throw a hell of a party.
18. Encanto Cake Design With Favorite Disney Characters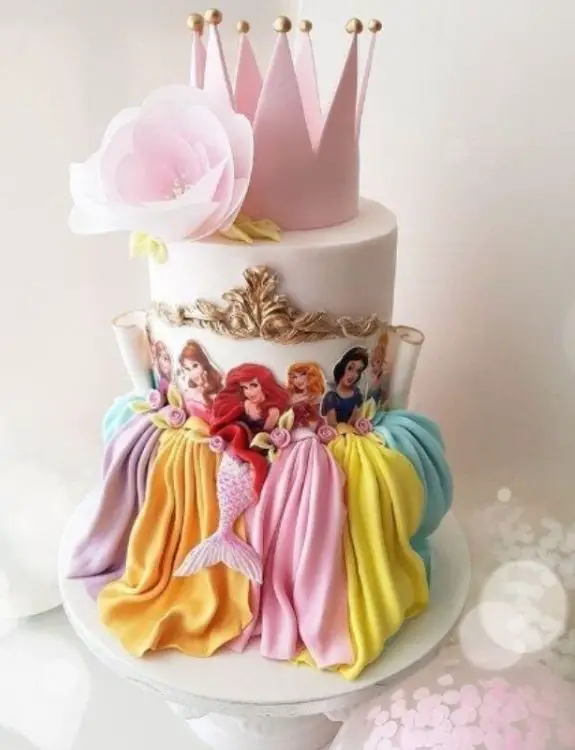 You can add as many of your favorite characters to this cake design as you want, and it'll become even more attractive with every addition. This design looks pretty good in light red or pink color.
19. Two Story Encanto Cake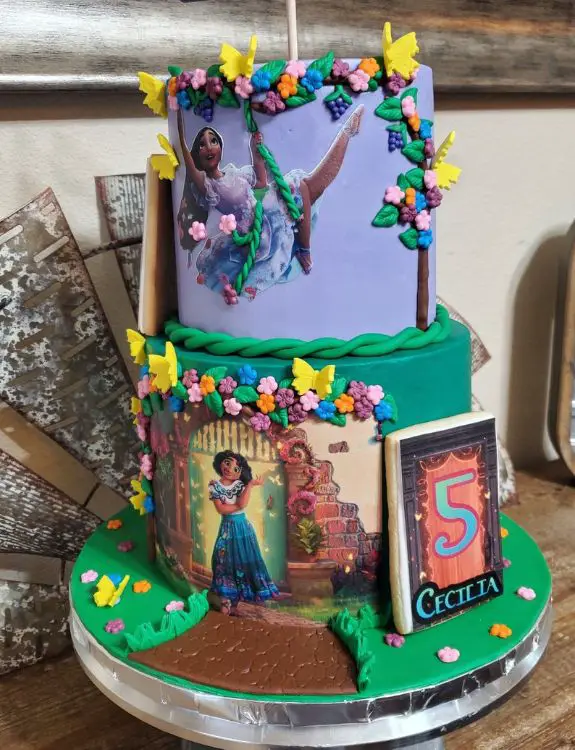 With two stories, there is a lot of room for beauty additions. You can add several colorful creamy layers to the bottom story. And on the top story, you can add your favorite movie character as per your liking.
20. Complete House Encanto Design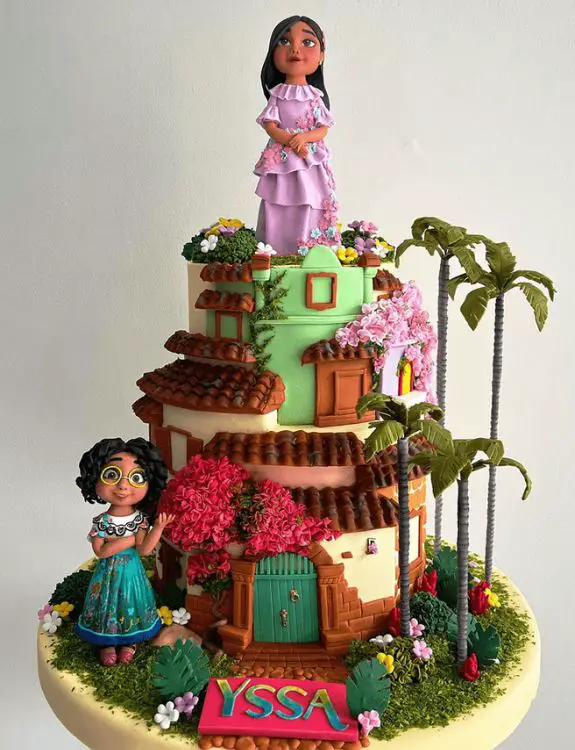 This one you'd surely like if, of course, you can afford it. A whole tiny Encanto house made of cake is what you need for your upcoming party.
21. Garden Encanto Cake Design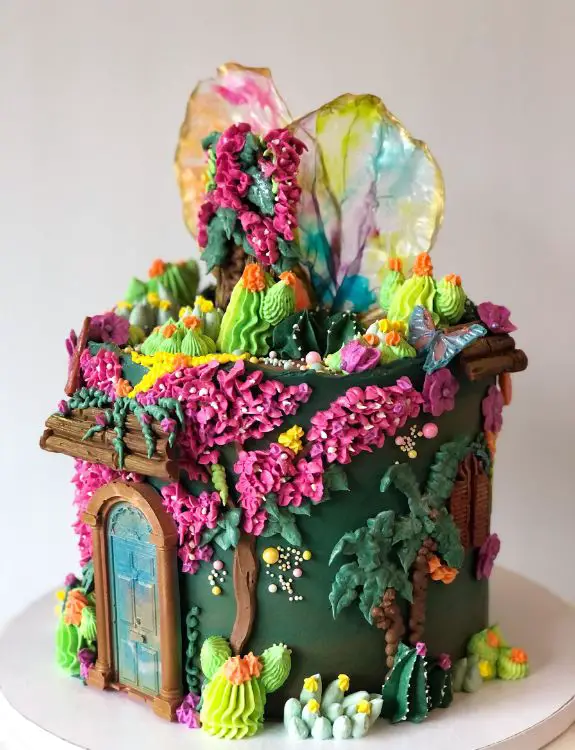 In this Encanto cake design, you'll find flowers, leaves, and many other things you find in a garden. This is a reason why it might be a bit more detailed than a usual cake and may not be affordable for some.
22. Typical Encanto Design With Bounties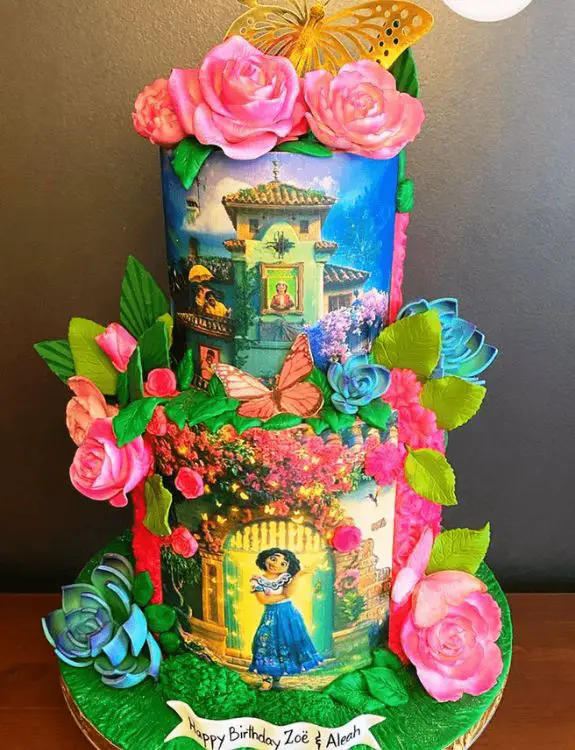 And last but not least, this typical Encanto cake design is pretty easy to bake and is affordable to many. This is why many people opt for this design, as it's perfect for not-so-complexed and simple parties.
Bottom Line
These were the top picks of the finest Encanto cake ideas. I hope you find one or more of these designs interesting and give them a try.