While having tailored clothing and wearing expensive shirts and pants can help you look better, these are not the only components of dressing well. They do help, but there are many other things men can do to ensure they are always looking their best. To avoid hitting a styling and fashion plateau, here are some Fashion Tips for Men.
Tuck Shirts in Properly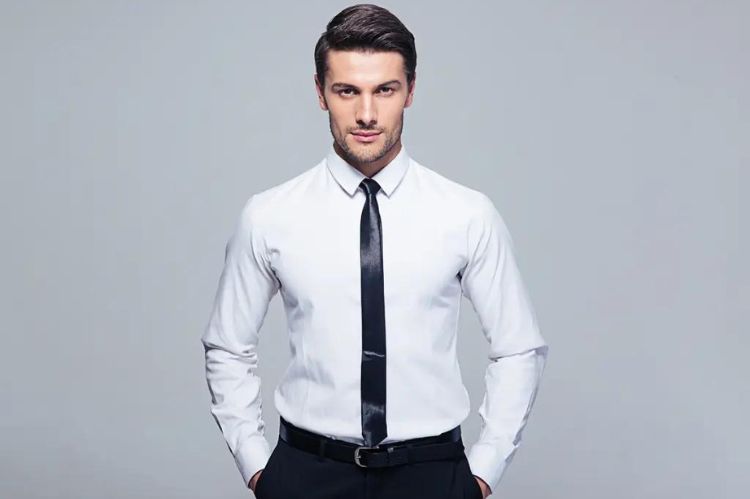 Leaving your shirt untucked is a fashion statement in itself, but you need to know how to tuck it in properly when you are required to. It might sound easy enough, but ensuring there is no shirt bunching around the waist can be more difficult than it may seem.
The best way to deal with this issue without having the size fitted is to learn the military tuck. This technique involves tucking in the shirt completely and then pinching the side to get a hold of the excess material. Next, tuck in this extra material on either side to ensure the shirt does not look baggy.
The military tuck is particularly useful if you would like to make your shirt seem fitted under a blazer or jacket.
Know How to Deal with Temporary Stains
It is quite embarrassing to walk into a meeting after breakfast or lunch only to realize something has drizzled over your crisp shirt. To avoid embarrassment, you should know how to remove stains quickly. One of these is using a wet towel to wipe off as much as you can, and scrubbing to ensure you get it all. Your shirt might be a bit wet after scrubbing but give it a few minutes if it's a cotton shirt and it should be good to go. Another recommended option is using talcum powder to remove nasty marks.
Some men keep an extra shirt in the office, so use this option if it's available to you. An extra shirt is not only great for not having to deal with stains, but it can make it easy to transition into the evening if you need to go for a date after work, for example.
Learn to Layer
Many people do not understand layering because they end up just putting on more clothes and calling that layering. Layering takes deliberate action, choosing clothes that go well together and that work together to serve a specific function. You could layer to look relaxed and fun in the summer, or cool and warm in the winter.
To layer properly, start with a base layer of a shirt or T-shirt, and a pair of trousers that goes with either. You can even wear a shirt over the T-shirt, it just depends on the look you are going for.
Following the principle that thinner fabrics go on the inside and thicker fabrics go on the outside, the next layer should consist of a sweater or jacket. The padded jackets from Amiri can work great for this, providing a subdued layer without looking out of place. You can go with a flannel jacket from the same designer, who sells a wide range of men's fashion items from caps to flared jeans, to complete your look.
Although not considered an important part of layering, a good cap or beanie can help bring everything together, especially when the temperatures are low.
Perfect the Sleeve Roll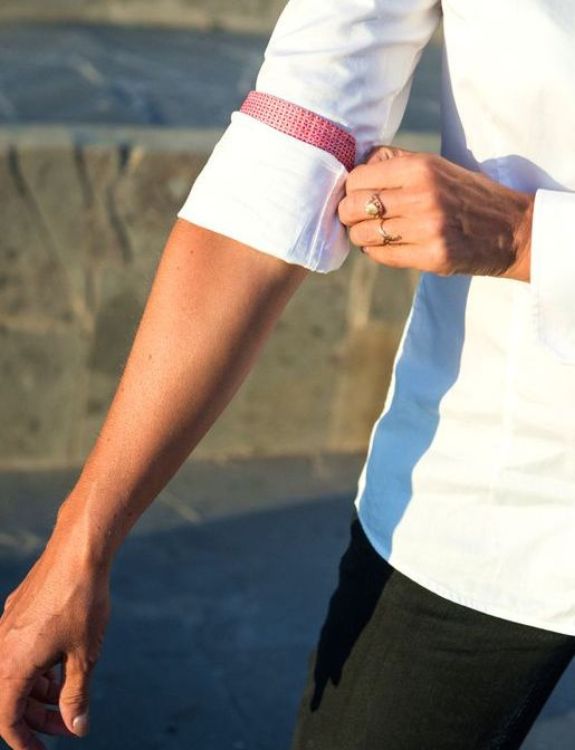 One of the ways of making an outfit seem more relaxed is by rolling the sleeves. You likely have seen many public figures do this, especially in situations that would otherwise feel too serious. However, there is a thin line between tastefully rolled-up sleeves and looking like you have been working on an engine.
To get it right, roll the cuffs outwards and towards the elbows, ensure everything lines up, and then make a second fold. You are aiming for the cuffs to land between the elbow and wrist. In rare cases, you might want to go for three turns, but ensure the cuffs do not end up too close to the elbow.
Learn to Leverage Prints, Patterns, and Colors
It's fair to say that many men's outfits are bland. While they may combine some colors, patterns, and prints, many do not do it right, and it ends up looking like they picked random clothes from their closets. To get this right, start by finding out which colors go well with your complexion. Next, find out what patterns and prints look slimming and flattering on your body type.
Other hacks to know are that darker colors make you seem slender and taller, an effect that vertical stripes also have. If you have a light complexion, pastels and bright colors will make you look washed out. If you are plus size, horizontal stripes will not look their best on you.
Making a few changes to your wardrobe and how you wear clothes will make a significant difference to your style. Feel free to experiment a little to find out what works for you.