Which places shouldn't miss on your Detroit vacations? If this question keeps bothering you, note a few fun things to do in Detroit from this post. So, you have finalized Detroit as your next vacation and are more than excited. You've planned a hundred fun things to do in Detroit. But you can add a couple more things. Because there is no limit to joy and fun, right?
Here we present an immersive list of fun things you can visit and enjoy in the city so you don't miss its automotive vibe while also enjoying its deep connection with music.
Let's begin.
1. Support
No, it's not a speedway to work your adrenaline. Instead, it's an indoor stadium that features Detroit Lions games on top of many other sports and activities that continue all year.
2. Or Watch Baseball Match at Comerica Park
Are you interested in more sports events? Check out what's on the roaster at this stadium. For those folks who aren't interested much in sport, the park features other activities including a food court, a Ferris wheel, liquid fireworks, and carousel.
3. How about Watching Puck Flying at Little Caesars Arena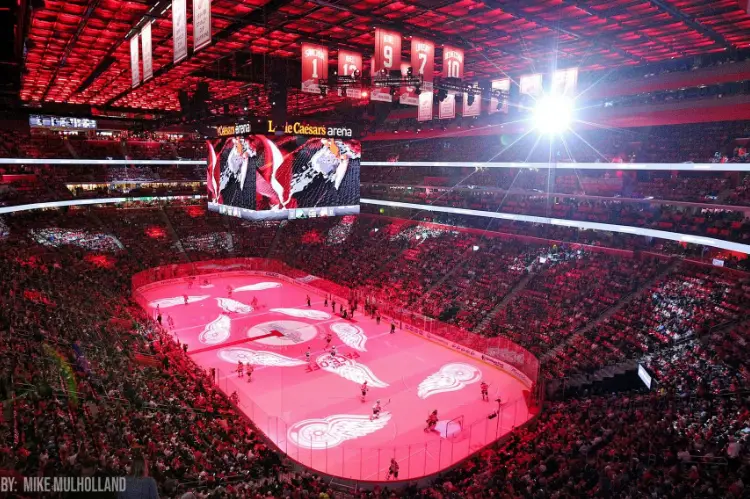 Are you visiting in winter? Here, you can catch a lively game of ice hockey played by the Detroit Red Wings. But if you are visiting out of season, you can still enjoy the vibes by attending live performances of traveling artists.
Read More: Some Exciting Places To Visit On A Trip To Thailand
4. Spectate Matches at Michigan Stadium
It would be a shame if you missed visiting the US' largest college stadium on your trip to Detroit. With a capacity of 107,000 spectators, the stadium hosts football matches from September to November.
5. Compete at Michigan International Speedway
Experience the adrenaline rush by taking part in NASCAR and spectating the speedy cars rushing by. If that's not enough, you can sit alongside an instructor and take the steering wheel.
6. Or Compete in the Escape Room
Compete against the time. In the designated time of an hour, use provided cues to find answers while also honing your coordination and communication skills.
7. Catch a Movie at Redford Theater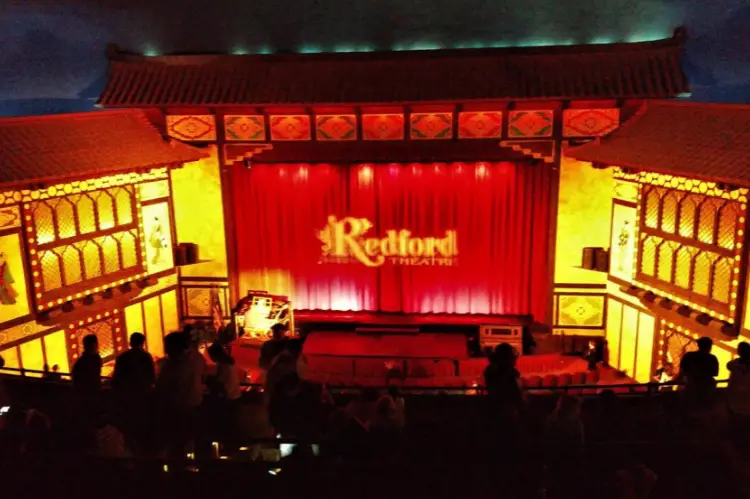 It's not like every other theater. Instead, you get to watch the movie under the sky. Take note, this landmark of cinema history is one of the last few atmospheric cinemas left in the USA.
8. Have Fun at Outdoor Adventure Center
If you are traveling with kids, this adventure center is the first attraction you should visit. Activities include boating, waterfall, biking, and an amusement park.
9. Learn a New Science Concept at Michigan Science Center
This is another attraction that is most suitable for kids. You can indulge in STEM activities, a 4D theater, and a museum.
10. Visit SEA LIFE Michigan Aquarium
This unique experience of underwater fish-seeing is both exhilarating and adventurous. But you can limit the adventure for kids by preventing them from lowering their hands into touch tanks. Plan ahead so you can catch the demonstration and feeding times.
11. Indulge in a Scavenger Hunt
If you are traveling in a group, you can plan your own scavenger hunt. Otherwise, get enrolled within a custom-made scavenger hunt that takes you through historical sites, famous buildings, and parks.
12. Learn and Indulge at Ann Arbor Hands-on Museum
This is one of the few museums that encourage the visits to touch and feel the artifacts. You can take your kids through one of the 160 exhibits that continue within the premises.
13. Don't Miss Ready Player One
This is a treat for those of you who love and miss the older days with primitive games like Mario Donkey Kong. Apart from a chance to play these games, you get a quality place for dining and drinking.
14. Or Explore the LEGOLAND Discovery Center
Don't dare to go without kids! Or you may end up too hooked to leave. The discovery center gives plenty of opportunities to play, take rides, see movies, shop all things related to LEGO.
15. Learn the Art of Pottery-Making at
Pottery is a relaxing skill that needs some time to master. You can get your hands dirty here and learn an ancient skill to satiate your curious side.
Read More: Fun Things To Do In Gatlinburg To Make Your Trip Memorable
16. Get Yourself and Old Book at John K. King Used and Rare Books
You know what; you can't leave your thirst for reading behind when visiting Detroit – not when you have a treasure of old books in the form of John K. King's store.
17. Read at Detroit Public Library
Or read without paying a cent by visiting Detroit Public Library. If you are not in the mood of reading – you went there to roam around, after all – you can attend the Detroit events held within the premises of this library. Again, plan in advance, you may get a chance to listen to your favorite author talking.
18. Visit Automotive Hall of Fame
If you don't have a deep knowledge of the automotive industry, this museum should act as the right starting point. Learn about all the milestones and famous people from Detroit that led to the amazing vehicles we've gotten now.
19. Freak Out at Erebus Haunted Attraction
The city doesn't feature lots of horror stories so you have to get the feeling from artificial sound and visual effects. Get a complete experience at Erebus Hunted Attraction. But keep the kids at a safe distance.
20. Get on a Pedal Bar
Socialize with new people while pedaling on a multi-seater bike. More commonly known as a pedal bar in Detroit, the bike comes packed with a DJ and a bartender. Buy your own drinks and have fun.
21. Go Ice-Skating at Campus Martius Park
Ice-skating becomes the highlight of this park in winter. But if you are visiting in summer, you can discover the hidden history exhibited here using various monuments.
22. Skydive
Get help from a friend or instructor if you are afraid. But don't miss the adrenaline rush.
23. Take
Roller Coaster Ride at Cedar Point
Okay, this mention is from Ohio, not Detroit, Michigan. But the short distance allows you to take a day trip to and from the amusement park. And because it's home to the best rides in the States, you should go beyond your plan to make room for it in your schedule.
24. Catch a Live Performance at Fox Theater
Catch a Broadway show or attend a live concert at this renovated historical building.
25. Or Indulge in Opera at Detroit Opera House
Don't let its name fool you! It's more than just an opera house and also hosts other events. Other than opera, it also features ballet dances, Broadway shows, liver music performances, restaurants, gift shops.
26. Attend a Concert at Saint Andrew's Hall
Talking about live performances, Andrew's Hall is a great place to catch one. The topmost genres you would find here include punk, metal, and electric.
27. Experience the Music at Masonic Temple
Those who are interested in listening to music will find Masonic Temple is their haven. Even if you are not interested in this form of art, your visit will not go in vain. You can take a guided tour to uncover the history of this building or marvel at its architecture.
Read More: List of 18 Fun Things To Do On Long Island
28. Don't Miss the Liver Performance at Beacon Park
Other than music, the park allows you to enjoy food and celebrations that keep going on here.
29. Be Lucky at Greektown Casino
Or just experience a night out with your fellow.
30. Check Out the Performance at the Fillmore Detroit
Fillmore is famous because of the musicians that perform on its stage. Talk about the likes of B.B. King and Led Zeppelin. Book online to get the best ticket for your needs.
31. Visit TCF Center
No attraction in Detroit is more profound and versatile than TCF Center. For starters, the building hosts a myriad of tradeshows. On top of being a great networking avenue, it also offers you lots of fun opportunities including festivals, concerts, and other events.
32. Explore the African Culture at Dabls Mbad African Museum
The African Bead Museum showcases an impressive collection of African beadwork along with jewelry and other pieces of artwork.
33. Watch The Fist
A tribute to the legendary heavyweight boxer, Joe Luis, the Fist is 27 feet tall and is worth watching.
34. Explore Fun Things at the BELT
DO you want to enjoy the open air? But your partner doesn't want to miss a chance to visit an art gallery and you are torn between the two options. This open-air art gallery will come to your rescue. Plus, you can enjoy Detroit cuisine from the food trucks roaming around.
35. Browse Art Collection at Museum of Contemporary Art
Get a hang of culture with its permanent and rotatory exhibits. The themes for rotatory exhibits cover different themes from an understanding of underground Detroit to international fruits.
36. Admire the Elegance of the Spirit of Detroit Statue
If you are heading to Hart Plaza, you shouldn't miss the iconic statue that acts as an important landmark in Detroit tourism. Don't forget to take a selfie.
37. Tour the Historic Fort Wayne
Another tour that takes you back in time, this one uses artifacts like original war antiques and recreations.
38. Be Amazed Watching Fisher Building
The architecture in you will thank you for visiting this beautiful building. It's dubbed as the largest art object of Detroit for a reason.
39. Or Visit the Detroit Historical Museum
What is the history of Detroit other than the development of the automotive industry here? It's about music, culture, and politics. This all-inclusive museum is the complete history lesson for Detroit.
40. Explore the History of Music in Detroit at Motown Museum
Or you may end up listening to some calming lyrics.
41. Appreciate Natural History at Michigan Museum of Natural History
You may visit the museum to meet the ancient dinosaur friends. But that's not the only attraction there. You can explore different animals and minerals that date back to ancient times. Or you can simply check out the ecosystem of current-day Michigan.
42. Marvel the History at Ford Piquette Avenue Plant
Visit the oldest car manufacturing factories in the world. Know more about the car-making process here from the former employees of Ford Plant.
43. More Art at University of Michigan Museum of Art
The artists and art-enthusiast should include this museum that includes thousands of pieces from ancient times to modern art form.
44. Broaden Your Knowledge at Henry Ford Museum of American Innovation
By the name of it, you might be thinking that it's another automotive museum. Unsurprisingly, it is! But it's more than just that. It also includes pieces from the political and cultural history of Detroit.
45. Another Collection of African American Culture at Charles H. Wright Museum
Don't forget to visit the world's largest museum that is ever dedicated to the history of African Americans.
46. Explore Art at Detroit Institute of Arts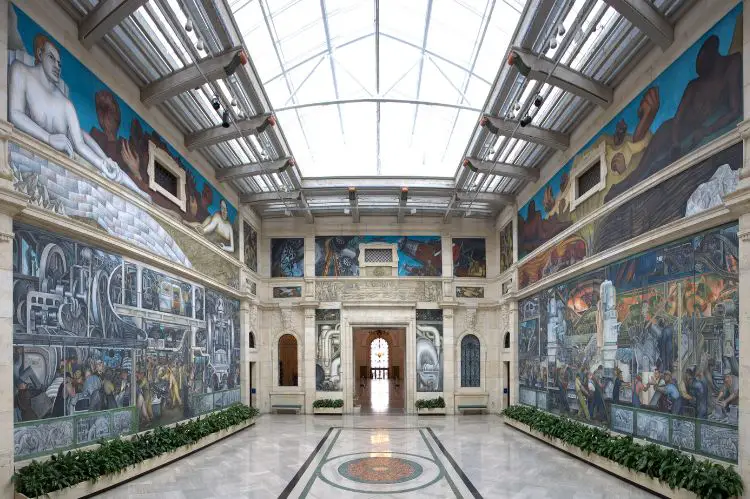 If you are willing to explore even more art from different cultures, your next stop should be the Detroit Institute of Arts. Its international collection includes thousands of pieces from Egyptian history to European without missing out on the history of the automotive industry in the Motor City.
47. Learn and Enjoy at GM Renaissance Center
The only historical about this building is its purpose as the headquarters of General Motors. Other than that, it's a vibrant stop for locals and foreigners to shop, dine, and roam.
48. Explore the Street Art at Heidelberg Project
If you want to explore the hidden side of Detroit with lots of effort and beauty but a lot less fame, you should go admire this project. Founded by Tyree Guyton, this project uses everyday essentials to build art pieces to bring life to the McDougall Hunt neighborhood.
49. Relive History at the Ford House
This former home of Henry Ford's son Edsel Ford is, unsurprisingly, a landmark in automotive history. If you are not in the mood to appreciate history, you can enjoy the view at the bank of Lake St. Clair, afterward.
50. Explore the Skyline from Hart Plaza
Another destination for a lazy day, this plaza offers a view of the riverfront that's both fascinating and relaxing. But if you've got the energy to use, you can join one of the many festivals going on every day within the venue.
Read More: Why you Should Choose the Maldives for your 2022 Holiday
51. Walk over the Ambassador Bridge
This destination also keeps the riverfront as the highlight. Take note that this bridge crosses the border to connect Detroit with Ontario.
52. See the Penobscot Building
Built in the 1920s, this building was the first skyscraper in the history of Detroit. Admire the efforts of the construction workers of those days or just chill at its highest floors and admire the skyline against the sunset.
53. Visit Fair Lane Mansion
After spending days taking in all the fun Detroit has to offer, you may want to relax a bit. This mansion – with its splendid natural beauty – has everything you need to kick back and relax.
54. Pay a Visit to the Basilica of Ste. Anne de Detroit
If you go there, you are not only attending weekly church service but also becoming a witness to an important historical and architectural landmark.
55. Or Attend St. Mary's Catholic Church
This Victorian Gothic-styled church is welcoming and accommodating. The architectural beauty makes it a must-visit among other attractions of the city.
56. Explore Detroit Zoo
The zoo exhibits an astonishing collection of animals from all over the world. Whether you want to appreciate the beauty of fallow deer, bald eagles, or penguins, you will find it all here.
57. Retreat at Detroit Riverfront
Relax and refresh away from all hustle and bustle.
58. Relax at Belle Isle
You may choose to take a stroll or admire the blue sky above you while lying down on your picnic blanket. If you have reached here, don't forget to see the aquarium situated on the grounds.
59. Take a Stroll at Nichols Arboretum
With more than 6,000 plants filtering the air, you can bet this is one of the most refreshing areas of Detroit.
60. Enjoy at William G. Milliken State Park
Get a view of the harbor and relax in this park abundant with nature and greenery.
61. Admire the Nature at Anna Scripps Whitcomb Conservatory
Founded in 1904, this greenhouse houses numerous manicure gardens allowing visitors to chill in the shade of its taller trees.
62. Take a Walk at Dequindre Cut Greenway
A quiet trail for biking, jogging, and strolling; this greenway takes you through remarkable areas of the city. First, you get to admire the greenery of the roadside, and then you can appreciate the graffiti and other artwork in other areas.
63. Or Just Chill at Grand Circus Park
The park features a fountain on top of acres of greenery and art installations.
64. Eat the Soul-N-The Wall at Boogaloo Wonderland
Thinking about grabbing a bite in Detroit? You will love the legendary Soul-N-The Wall entrée at Boogaloo Wonderland.
65. Savor Ray's Ice Cream
Commonly dubbed Superman Ice Cream, this dessert is a never-miss if you are in Detroit.
66. Taste the Whiskey at Atwater's Tour
Don't just drink whiskey. Instead, take the tour and learn more about its signature drinks.
67. Hop on a Food Tour
Are you a foodie? There are hundreds of places that you shouldn't miss eating out in Detroit. But you don't have hundreds of days there. A quicker option is to take a food tour across the city.
68. Or Grab a Shawarma at Bucharest Grill
Eat and try to guess the part in the recipe that makes it different from other Shawarmas you have eaten.
69. Eat at Cliff Bell's
The restaurant offers a fancy menu – no doubt about that! But the ambiance is another reason that pulls people towards it.
70. Or Savor Food at Joe Muer Seafood
Joe Muer is a must-try for fish-eaters. Hell! It even has a menu for vegans and vegetarians. You can't go wrong with it.
71. Ride a Helicopter
While Detroit has a lot to offer to visitors, every visitor has the freedom to take in its attractions for an extended time. If you are falling short of time, you should resort to city tours. Other than some food tours and pedal biking tours, you wouldn't find many opportunities to combine different Detroit attractions in a single Detroit tour. In that case, a helicopter tour becomes the only way out in the Motor City.
72. Get on a Show Me Detroit Tour
Or hop on one of the few Show-Me-Detroit Tours offered by local guides.
Take Away
If you are planning to visit the Motor City know that there are a lot of fun things to do in Detroit that are fun, relaxing, educational, and adventurous. Complete your plan by picking some must-visit places from this post and once you are back, tell what went well.