Funeral receptions don't always have to be sad. Remember your loved ones with a personalized funeral reception. Incorporate their favourite food or activities. Here are a few ideas.
It's difficult to lose a family member, a friend, or someone you care about. When words fail to console, it is sometimes the company of others that helps you get through the most trying of times.
If you're arranging a comforting funeral celebration for a grieving friend or loved one, here are some reception ideas to consider.
5 Comforting Funeral Reception Ideas
Following the ceremonial mass or funeral service, family and friends gather for a reception to celebrate, honor and remember the deceased's life.
Funeral receptions are less formal so that everyone can express their condolences and share their emotions in a more relaxed environment.
1- Hold It in Places the Deceased Loved
Celebrating people's lives in places where they had the most fun is one of the best ways to remember them.
Choose something they used to enjoy, whether it's in a sports stadium, a historical mansion, or a theatre. It's also a good idea to get the venue set up first so that everyone knows what to wear.
Also, it's important for your funeral catering company from Toronto to know where they should be setting up the food so they can also prepare the right table decoration.
2- Family Potluck for the Reception's Food
Food is always the glue that binds family and friends together. So what better way to honor someone you care about than to have everyone bring food that reminds them of the person who has passed away?
It also relieves the pressure on the person who is in charge of the entire reception. Because food preparation is so crucial, having the organizer arrange every detail of the meal can be a challenging process. Help ease the burden by bringing your own food contribution instead.
3- Make the Venue More Colorful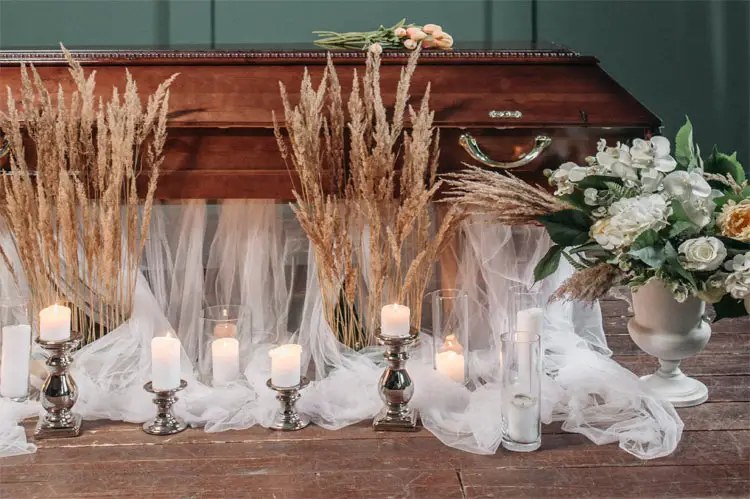 When it comes to funerals, practically everyone believes that it is best to keep the colors within the blacks and whites throughout the occasion and even until the reception.
While the event will remain solemn, you can always add some color to it. So you may have the brightest funeral flowers from your Etobicoke florists, as well as colorful tablecloths, decorations, and everything else.
Choose colors that the deceased would like, or have attendees wear colors that they believe best symbolize the departed.
4- Do a Drive-By Parade
You can organize a drive-by by members of the deceased's organization, such as motorcycle or bike groups if the deceased was a member of one.
It's a wonderful opportunity to honor them and the other members of the organization by honoring them with something they used to be really enthusiastic about.
Allow them to drive by areas that were important to the dead. You may need to make arrangements with reliable bus companies in Toronto or your other transportation service businesses to bring everyone together for the occasion.
5- Give Funeral Favors That Grow
What better way to commemorate the lives of departed loved ones than to plant something in their honor?
Death always serves as a reminder of life's fragility and how fleeting it may be. Offer trees or any other plant that the deceased enjoyed so that attendees can take one and plant it in their favorite spots.
It reflects the affection that people will always have for the deceased in this way.
Funeral services are more traditional and more solemn. But funeral receptions do not necessarily have to follow the norm.
Because it's a memorial celebration, one way to make it more personal is to tailor it to the things that your deceased loved one enjoyed the most.
Make your funeral receptions more memorable and meaningful by using these funeral reception ideas.