When it comes to garden renovation ideas, many of us are guilty of placing the garden on the backburner and never getting around to it.
Transforming one's garden always feels like such a colossal task but, thankfully, there are many small things that you can implement to refresh your garden.
After all, it's a good idea to get going before we ease our way into the bitter chill of winter. While the weather is pleasant, why not get out there and turn your garden into the outdoor space of your dreams?
Discover some of the simplest and most effective garden renovation ideas below.
1. Shaped Lawns
If your garden is one with a lawn, this is often the focal point of the space. Rather than keeping to your standard square lawn, you might consider making more of a statement with shaped lawns.
This provides your garden with a more dramatic and heritage look, making your garden one of the prettiest out there.
Whether you want to stick with natural grass or shell out for the fake grass cost, a shaped lawn is sure to transform your space.
The downside to natural grass is that it requires a lot of maintenance to remain green and neat.
Meanwhile, artificial grass is quite expensive and isn't the most environmentally friendly. Therefore, it's all about weighing up your options.
2. White Flower Beds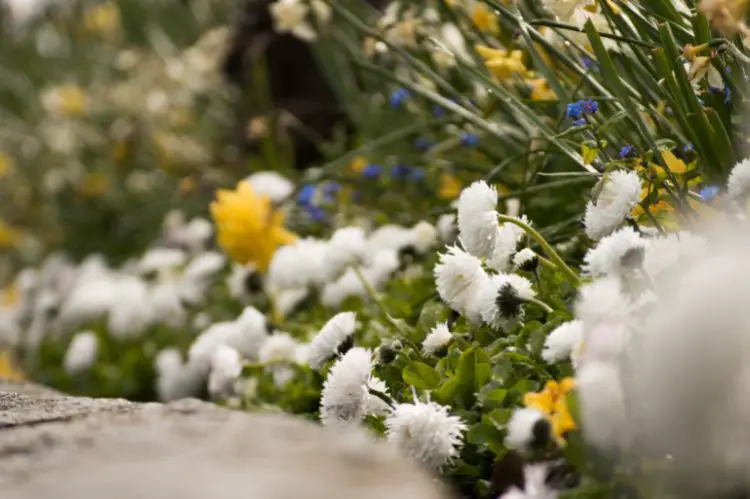 Creating contrast in your garden is a great way to contribute to the overall appearance. One of the best ways to create contrast is by experimenting with color and, typically speaking, gardens stick to darker tones.
As a result, adding in some white raised flowerbeds is the ideal way of creating a sleek appearance. You might pair this with a teak colored boundary line fencing, which will create a nice contrast and safety of the lawn.
Ultimately, a variation of colors that complement each other is one of the most effective measures you can take to prevent a space from looking boring.
3. Colorful Throw Cushions
Following on from the importance of color, one of the simplest ways to incorporate a splash of color into your environment is via the use of throw cushions.
Most garden furniture comes in a neutral color, so the presence of colorful throw cushions is an ideal way of steering away from these exclusive neutral tones.
You might even have one bright color that runs throughout your outdoor space in order to tie it all together in its entirety. Oranges, yellows, and greens are a great option for contributing to the brightness of your space.
4. Zen Design
Zen garden designs are growing in popularity, and this might be something that you'd like to adopt for your own garden. The use of red and black runs through these gardens, as well as natural rocky tones and greenery.
Most zen gardens have a centerpiece that the rest of the garden is built around, so you might have a little browse of which centerpieces would be most appropriate for your desired result.
5. Multiple Levels
When you have a small garden, it can be tricky to completely maximize the space; however, one of the best ways to achieve this is by using multiple levels and incorporating space dividers.
As with these various levels, you might also incorporate multiple colors in order to incorporate some fun in the space.
These colors can come in the form of quirky furniture or beautiful flowers. Whatever it is that you choose, just make sure that you make your garden your own.
Looking for garden renovation ideas? Explore the beautiful selection of flower boxes to add a touch of elegance and charm to your outdoor space. Discover how these can transform your garden into a vibrant and inviting sanctuary.
What are your plans for your garden this year?