Trust us. One thing that no parent wants on Christmas morning is waking up to their kids hollering, "Mommy! Daddy! Why didn't Elfie move last night?" Is that so?
As a dutiful and creative parent, that must be your concern too, which is why we are here with some fun and easy-to-do last minute elf on the shelf ideas.
For most of us, Christmas isn't just the 25th of December. It means having 24 days of warmth and fun. And of course, for kids, it's all about the Elf mischief and a surprise visit from Santa. If you're looking for easily doable last minute Elf on the Shelf ideas to keep the thrill and magic alive till the 24th of December – you're in for a surprise!
In this article, we have curated a list of time-saving, fun, and savvy last night elf on the shelf ideas that you'd enjoy doing. The best part is that they can be easily done with household items like toys, cleaning products, food, and a sheer smidgen of elfish imagination.
Here are Some Creative and Funny Last Minute Shelf Ideas For your Child
Want to go all creative and unsure about what things to do with elf on the shelf? This one is for you!
First, skim through the following list of our last minute elf on the shelf ideas. And decide which one of these elf on the shelf tricks would work for you and your kid.
Let's Begin!
1. Buried in The Snow Idea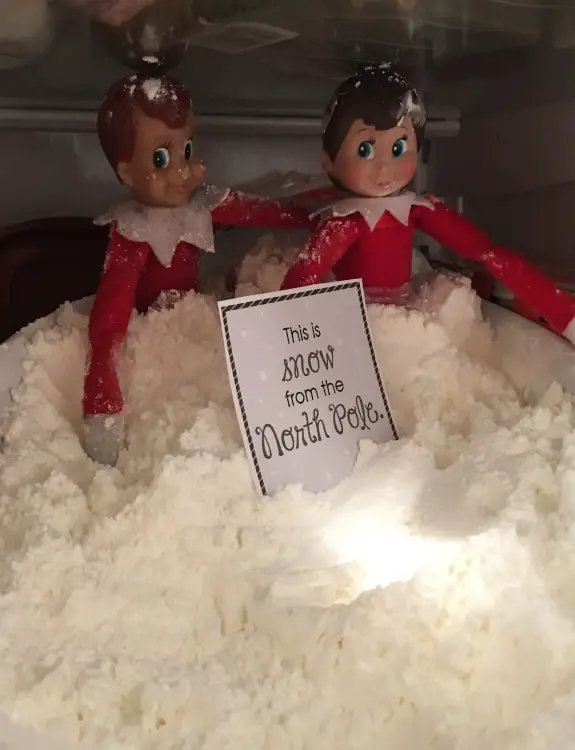 Why not create a snowy visual using candies or marshmallows. Take some mini and medium-sized marshmallows. Now stuff them together into any deep bowl, a jar, lantern, or container. After stuffing, put your elf inside the container, and it will appear like the elf is buried in the snow.
So easy and funny, right?
 2. Elfie Riding on Santa's Train Idea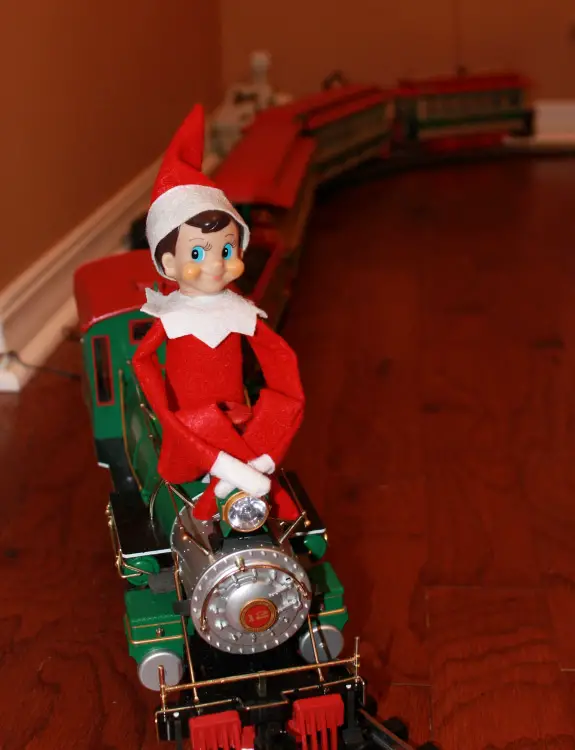 Got Christmas trains riding all around your Christmas tree? This elf on the shelf idea would be an easy one for you! Place elf on the train, and whoosh, you're all set with your creative elf on the shelf idea.
3. Elf Stuck in The Roll
Let's get the elf in trouble. Don't worry; the trouble we're talking about is the rolling elf in the tissue roll and running him down the stairs to give the whole scene a dramatic view.
4. A Little Tied Up Elf Idea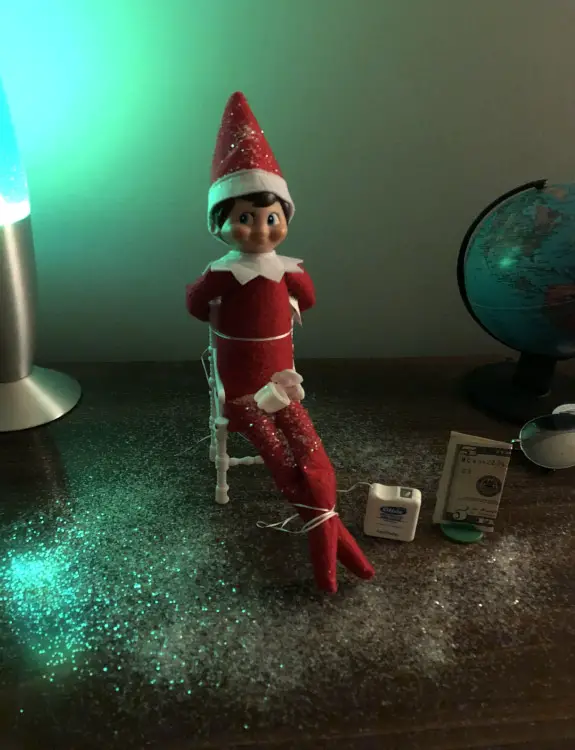 OOPS. Possibly your elf got himself into some trouble by engaging in some nefarious activities. Tie him up with tape to make it appear like a kidnapping attempt. Let him lie before a train for dramatic effect. And that's how your kid will be awe-struck with your creativity!
5. KitKat Ski Lodge Idea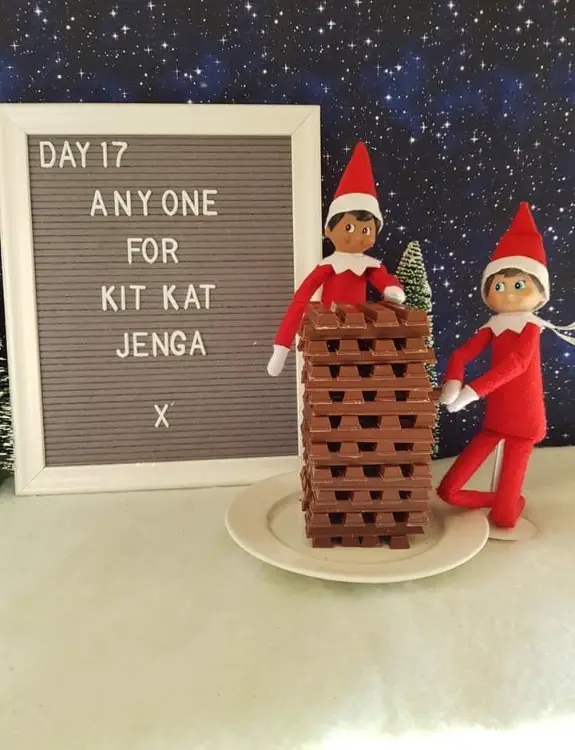 Without any doubt, this whole 'wow factor' of KitKat lodge is loved among people. You too loved the idea already and now executing it, right? If you're up, buy some KitKats and start strategically by building a ski lodge for Elf.
To follow this way, it is better you use KitKats whole. To give your lodge a snowy effect, you can add icing or sugar for a full 'snow' effect. Of course, after playing the trick, you can eat it later!
6. Elf Painting The Town Red Idea
It's the simplest elf on the shelf trick to play by now. All you need is a red nail polish to begin. Choose any one from your family to write a cheeky note on behalf of the elf, confessing to the act. You'll surely get loads of happiness and giggles around with this amazing last minute elf on the shelf idea.
Want to go over and beyond this Christmas? Go for more ideas down here!
7. Tied up in Ribbon Elf on The Shelf Idea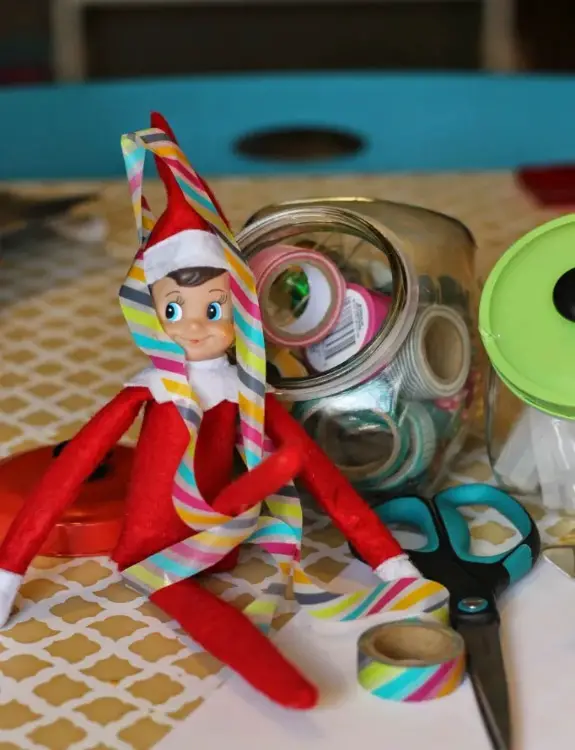 Tell everyone that your elf has been playing with your Christmas ribbons, bows, and wrapping paper with this hilarious Elf on the Shelf idea. You can decorate the house with tinsel, garland, bows, ribbon, or string to give it a festive holiday feel. This elf on the shelf idea is truly going to make your little one's day even better.
8. Bowling Game Set Up Elf on The Shelf Idea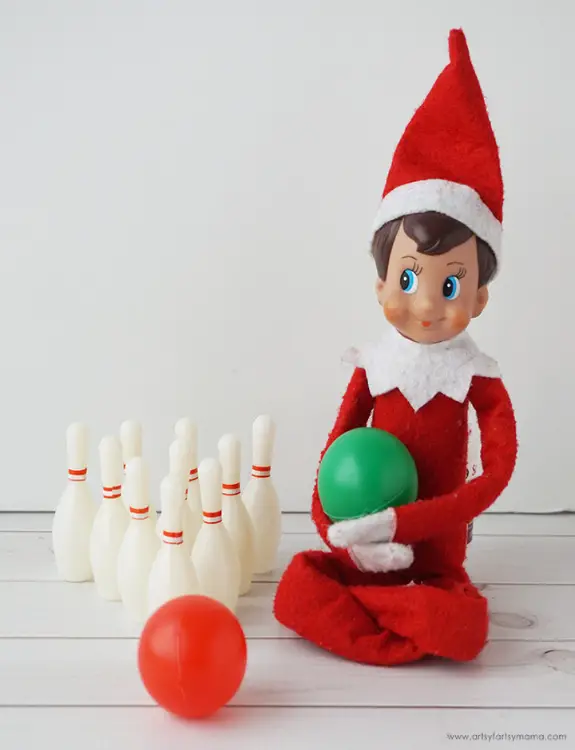 Apparently, your elf on the shelf has built a bowling alley for him to play. You can decorate the tree with an ornament, pine cones, and the rest of the Christmas trinkets that you can find around your house. Stay assured that this idea is going to cherish your little one!
9. Writing On Fruits Elf On The Shelf Idea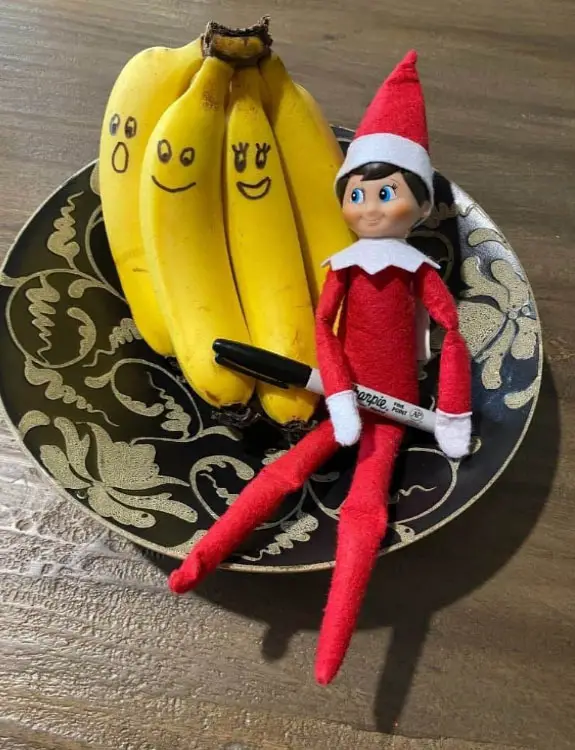 Evidently, Elf was playing with the markers and started to mark up some fruit. At least your walls won't be damaged when it gets into the markers as opposed to when your toddlers get into the markers!
This is the smartest move you can make to execute the elf on the shelf idea right away no matter how late you are.
10. Elf Parachuting Into The Room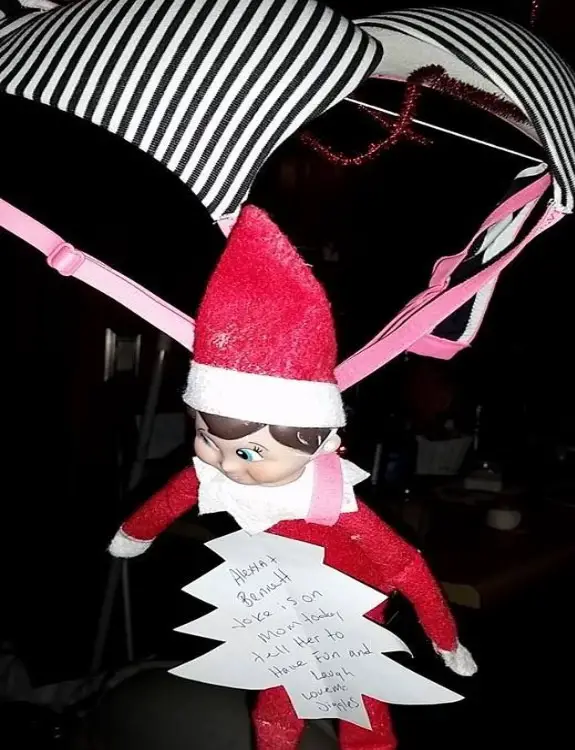 Oh my god! Is it a bird? Is it a plane? No, it's none other than Elfie coming all over with a parachute and entering our boundary.
Your toddler will be super excited seeing him flying all over the room. You can use a surgical face mask to tie the elf's hand to it and make it appear like it's hanging from a parachute.
11. Frozen Fun Elf on The Shelf Idea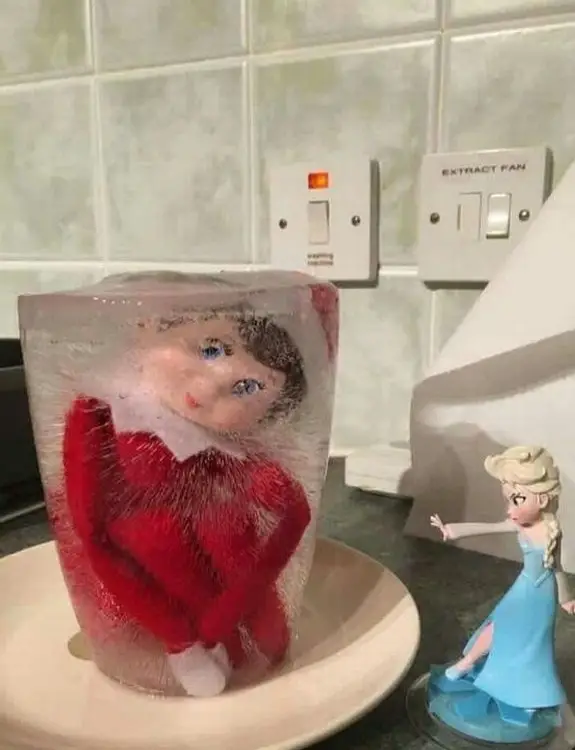 One of the coolest last minute elf on the shelf ideas is right here. Frozen 2 has finally hit our screens, so if you're loving all things Frozen again, why not give it a look that Elsa has frozen over Elf? Put Elf in a cup. Add a little bit of water. Put the beaker or cup in the freezer overnight, and then wake your children before Elf gets too melted. Let them play with the chilly Elf as it slowly defrosts.
12. Red Nose Day for Your Little One and Elf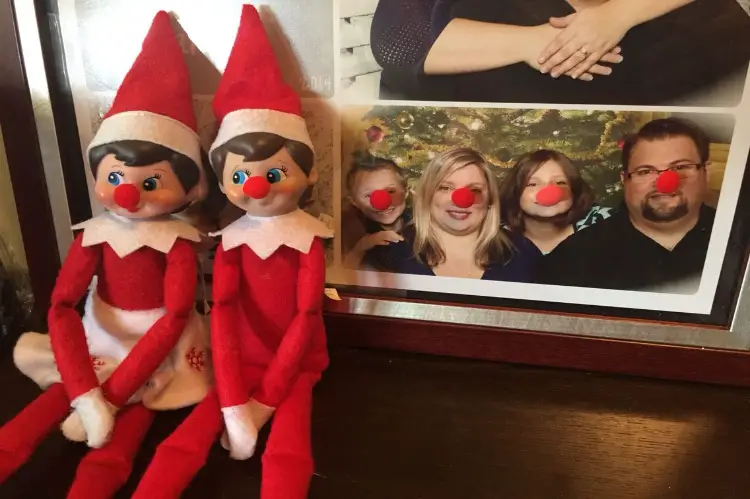 How about bringing some clown action back in the game of Christmas? This is a really fun activity you can do while your children are asleep.
Your Elf will look more like a clown if he's wearing a red pom-pom as a nose, and you can put a sign saying "clowning around" or something similar. As your children sleep, apply red face paint to their noses (make sure it's skin-friendly to avoid causing rashes). Make sure you're around when your kids look in the mirror in the morning!
13. Let the Elf has Its Selfie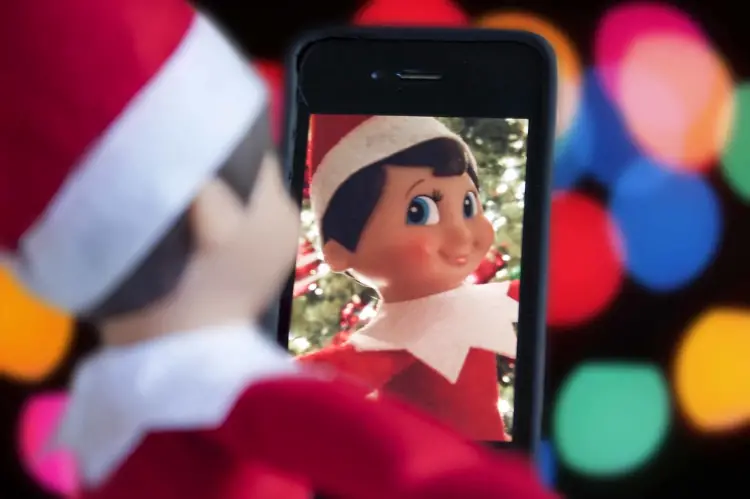 Have you almost forgotten to do the elf on the shelf ritual? Don't worry! Even a slightly funny idea can do the job. One idea you can use is placing your mobile phone in Elfie's hands and showing it as if it's taking a selfie.
Your kid would probably scream out of joy and excitement after seeing an elf with this unusual pose. He'd love to see pictures taken by his friend – elf.
14. Elfie Stuck in The Jar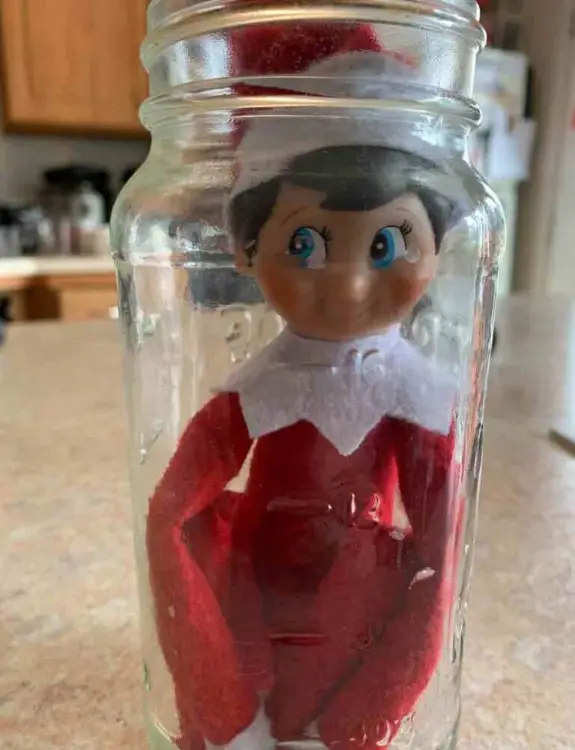 How about seeing your little one turning into a savior? A savior who'll rescue his elf! To see your kid cherishing those lovely moments, put the elf in a glass jar and tightly close the jar with a lid.
15. Elfie Climbing Up The Bow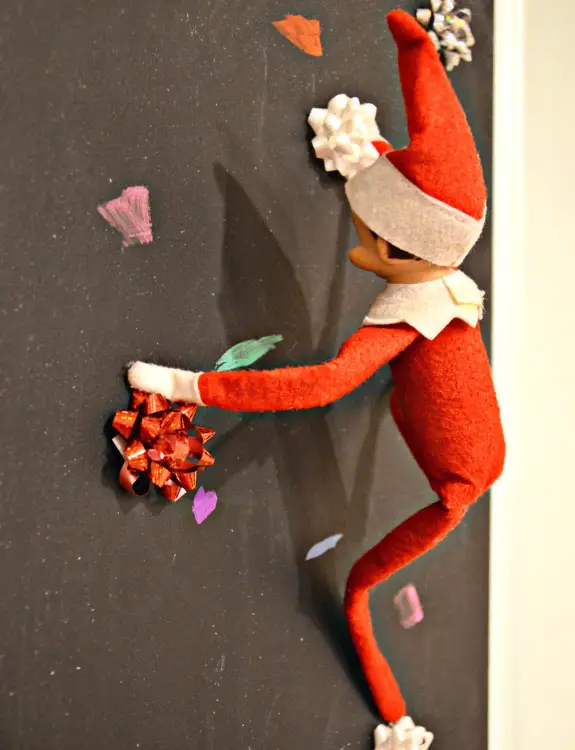 You certainly have a strong and capable elf who can climb as high as possible! Put bows on the flat surface of your fridge. Now attach the elf as if it's climbing it up.
Trust me, your kid will love Elfie's move like that!
16. The Musical Eggs Elf on The Shelf Idea: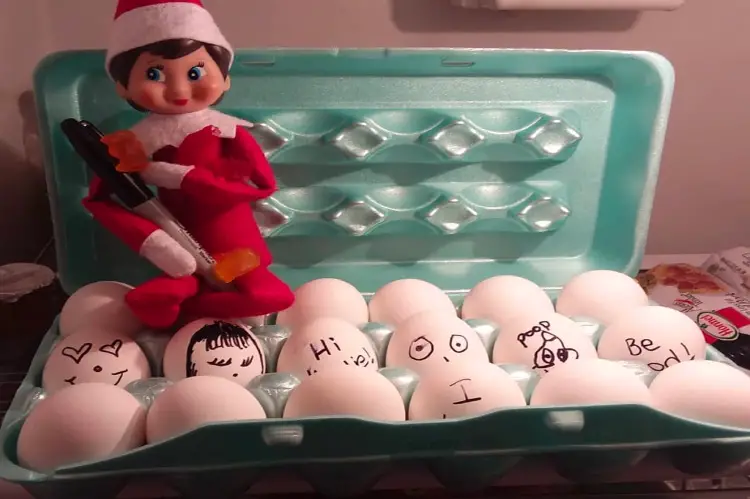 Create a music maestro with minimal effort. This is the simplest put last minute elf on the shelf idea where all you would need is a pen, a box of eggs, Sellotape. Begin by drawing funny singing faces over the eggs. Ensure that you're being creative with the egg's facial expressions. Now tape the toothpick to Elfie's hand to make the choral sing!
Don't have eggs right now in your fridge? Different props such as mandarins can work as well!
17. Playing Hide and Seek Elf on The Shelf Idea: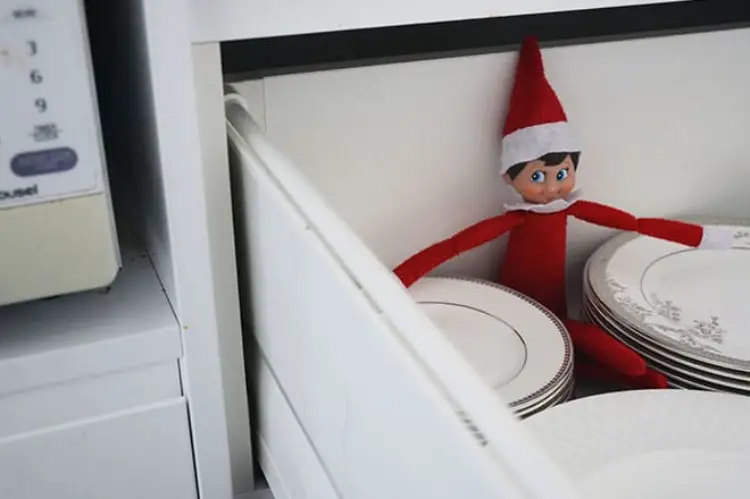 Your last minute elf on the shelf ideas can be activities as well. Your kids and elf can play a little game of hide-and-seek. It's time you send your child a note in the morning (or even a recording if the toddler can't read), giving him a little mission to find him.
Walk them through the house in places they would not usually look for the Elf. This idea is going to be super fun with your little one!
18. "Cruise Around a Barbie" Elf on The Shelf Idea: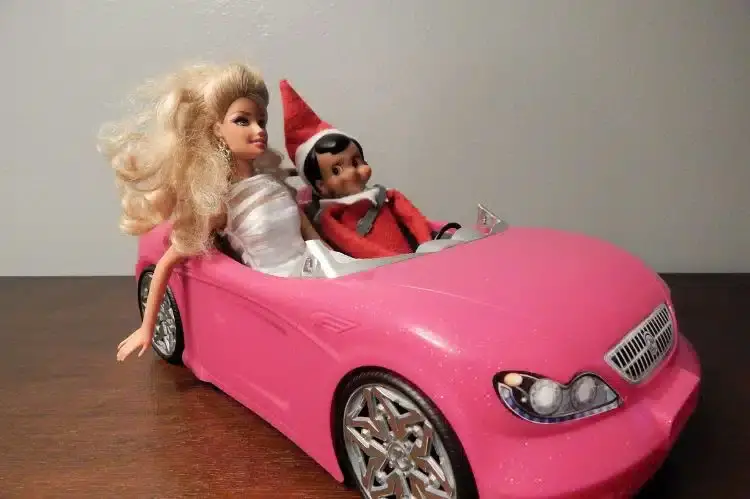 Have you got a Barbie doll and a toy car at home? If you have a toddler, you must have these. You can use them for your last minute elf on the shelf idea, which is cruising around Barbie along with the elf. Make them both sit together, and your kid will love seeing this fun cruise!
19. Freeze in The Fridge: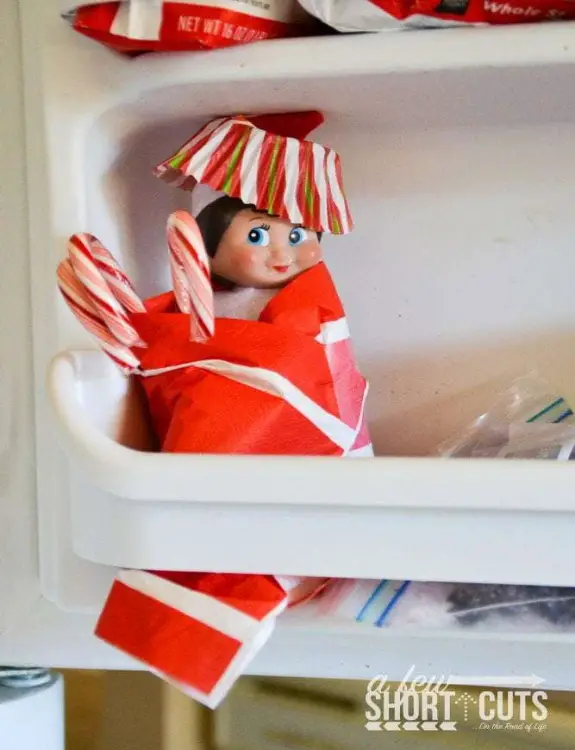 How about your kid finding an elf freezing inside the fridge wrapped up in a towel? It'd be great fun! Wrap Elfie and place him in the fridge beside other items, and your kid will go crazy happy seeing it there!
20. Oh No! Elfie Pea-ed!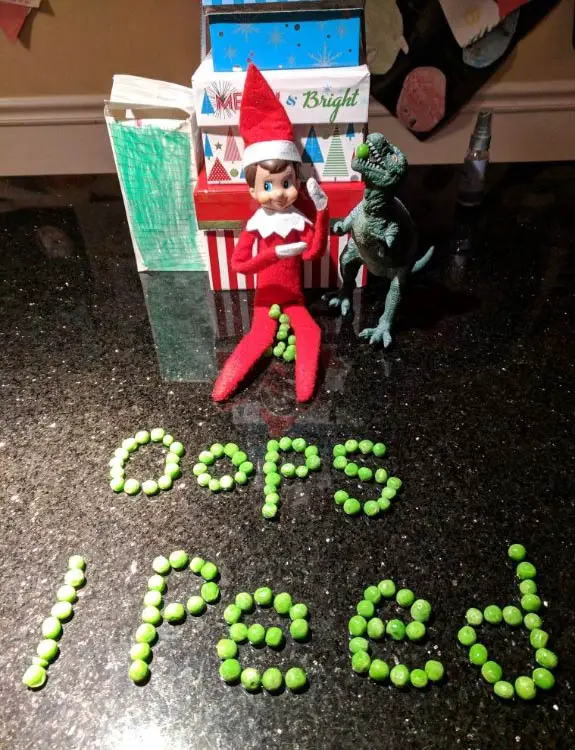 Don't worry! We're not going to show the elf peeing itself. It's peas that you'll use, not pee. This is another fun idea many parents would love to take notes from.
21. The Gamer Elf!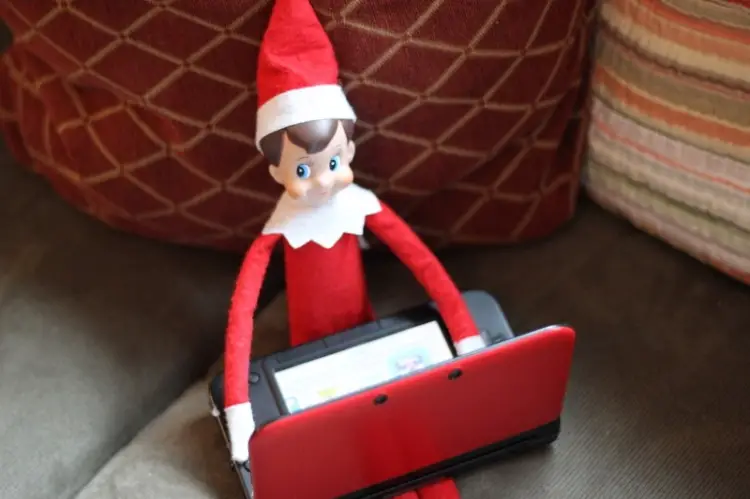 Perhaps your elf enjoys taking your child's video games. The elf just needs to make sure they're not talking to their friends while playing. This is another quirky and fun idea your kid would love!
22. Elfie Fell on His Head!
Does your elf try to do handstands or fall off the mantle? It's a good reminder for your kid to avoid climbing high things because they can get hurt! Probably, another fun idea for your toddler to rejoice in the happiness of Christmas!
Frequently Asked Questions:
What to Do on The Last Day of Elf on a Shelf?
The Elf on the Shelf – it's a Christmas Legend where an elf's duties end the night before Christmas. On the 24th of December, most Scout Elves bid their families farewell and return to the North Pole, following Santa's sleigh. This way, they can assist him in starting to plan for the coming year.
Can I Touch Elf on The Shelf on The Last Day?
Perhaps the most fundamental rule here is not to touch your Elf. And when you do, they could lose all of their magic, something that no one wants to happen. When scout elves lose their enchantment, they cannot carry out their Christmas responsibilities.
How to Say Goodbye to My Elf?
One popular way of saying good-by is to have your elves leave a special, personal message for your kid, whether that's a typewritten note or a greeting written in candies or plastic letters mostly on the fridge or a snow-painted window or mirror.
Wrapping It Up!
We hope that our suggested elf on the shelf pranks will give a creative boost to your Christmas planning. Elf on the Shelf is a Christmas tradition that no parent would want to give up on. And for sure, it'll never go out of trend, filling your child's day with more magic and fun in the spirit of Christmas.
Apply the aforementioned hilarious Elf on the Shelf ideas to surprise your toddlers and make their early Christmas a beautiful memory of their lives.