You need to keep your pool is looking clean and look presentable. If you have owned a swimming pool for a long time, then you will know that it's not always easy to do this. However, if you allow your pool to get dirty, then it will become unusable in no time at all.
Algae and bacteria thrive in uncared-for swimming pools. If you were to go swimming in a pool contaminated with algae and bacteria, then you could end up developing some nasty infections.
This post will tell you how to keep pool in good condition.
Robotic Cleaners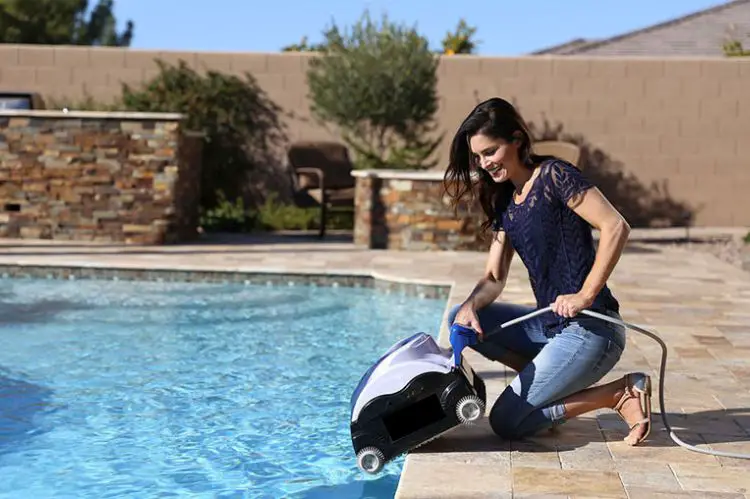 Robotic cleaners can be an extremely simple way of keeping your swimming pool clean. More and more people are starting to use these devices because they remove the need for them to physically clean their pools out.
According to distributors of the popular Dolphin robotic swimming pool cleaner, these devices can be controlled using smartphone apps. This actually means that if you have one, you will be able to program it to clean your pool even when you aren't at home.
Read More: Simple Garden Renovation Ideas: 5 Ways To Update Your Outdoor Space
Weekly Maintenance
Even if you have a robotic cleaner, it is still a good idea to perform weekly swimming pool maintenance. You should buy a net so that you can fish any leaves or debris off of your pool's surface.
Additionally, you should inspect your pool's walls and floor, to rule out any chips or cracks. A crack on the wall or floor of your pool can cause very serious problems. If you do notice any, then be sure to fill them in immediately, using an approved swimming pool concrete filler.
Color Changes
A very easy way of identifying whether or not your pool is dirty is to monitor its color. If your swimming pool takes on a darker tinge, then algae could be growing, or the pool's water could just need to be changed. Make sure that you are constantly monitoring your pool's color.
It can be very easy to miss a slight change if you don't check it every day. If your pool's color does start changing, then the water needs to be replaced. There could be substantial bacteria growth in your pool water causing the change in color. Swimming in it could put you at risk of developing skin infections.
Dirty Water
If your pool water is contaminated with urine, faeces, or any other biohazard, then you should change its water immediately. It is very common for children to have accidents in swimming pools. A lot of people don't replace their pool's water when it gets dirty and instead just apply more chemicals.
Unfortunately, applying chemicals might not eliminate all of the bacteria, not to mention it might throw your pool's pH out of whack. Dirty water should always be completely drained and then replaced with new clean water. Never let dirt remain in your pool.
Algae Growth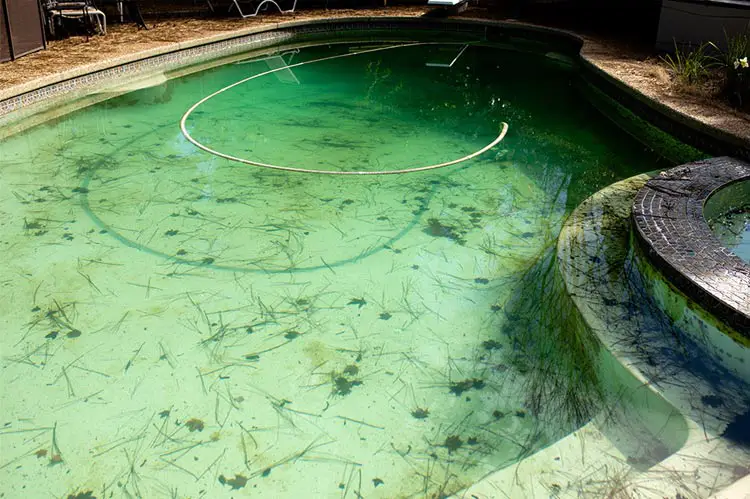 Algae growth is something that you always need to be looking out for. As mentioned in this post's introduction, algae can make your pool water dangerous for you to swim in.
A lot of people are very flippant or nonchalant when it comes to algae growth, but it is perhaps the biggest threat to your pool's safety.
If algae begin growing you should replace your pool water. The easiest way to avoid algae growth is to treat your pool with chemicals, and also keep it covered. If you don't cover it then algae will grow in no time at all.
Read More: Common Types of Rodents Invading Homes
Cleaning Filter
Your pool's filter should always be kept clean. If you do not know how to clean your pool's filter then the best way to learn is to reach out to your pool's supplier and ask them to send you an instruction manual.
When you had your pool first installed, the pool's supplier should have sent you an instruction guide. If they did not, then reaching out to them is your only other option. There are of course guides online, but it is usually a better idea to get a guide directly from your pool's manufacturer, specific to your pool.
Checking Pump
Always check that your pool's pump is in working order. Pumps are usually the first thing to break or deteriorate when it comes to swimming pools. Most experts recommend having your swimming pool checked every few years just to make sure that it's all working properly.
During your pool's service, the pump will be checked over. If the person checking your pump determines that it's not in working order or that it is going to break down soon, then they will tell you. Make sure to buy a replacement pump from the same place where you bought your swimming pool.
Chemical Treatment
Chemical treatment should be performed every time your pool's water is replaced. There are a lot of guides for replacing your pool's water and chemically treating it online. When treating your pool water, you need to make sure that you add the right amount of chemicals.
If you add too much (or too little) then your pool won't be adequately protected and might not be safe for you to use. If you aren't confident treating your pool water yourself, then you could pay for a professional pool service company to come in and do it for you.
Deterring Animals
Finally, make sure that you do everything that you can to deter animals from using your pool. If you live in an area where there are wild deer or bears, then they could invade your property and try to drink out of your pool. An effective way to deter animals is to spray predator urine around your property boundary.
Additionally, you should keep your pool covered when you aren't using it. By keeping your pool covered, you will be able to deter animals from coming to drink from it. If you do have a problem with animals on your property, then you should contact a pest removal service.
Your swimming pool needs to be kept clean and presentable at all times. Unfortunately, keeping your pool in good condition can be challenging if you are new to pool ownership or don't have a lot of time.
Out of all of this list's suggestions, a robotic cleaner is definitely worth considering. A robotic cleaner will allow you to keep your pool clean even when you aren't there. It will also deter animals since the movement and noise made will scare them away.