Have you ever been stuck between two nail shades and just couldn't decide on one? We feel you! And that is why we brought together the hottest two toned nail designs for your next manicure.
Just as the name suggests, two toned nails involve two different shades that may belong to the same color spectrum or an entirely opposite one. So the next time you find two favorite nail paints pick them both and turn your nails into one of a kind because when it comes to nail art the only barrier is your creativity!
50 Chic Two toned Nail Designs
To be honest, you'll be surprised by the number of designs and patterns that can be created using only two polishes. Don't stop scrolling!
1. Classic French Tips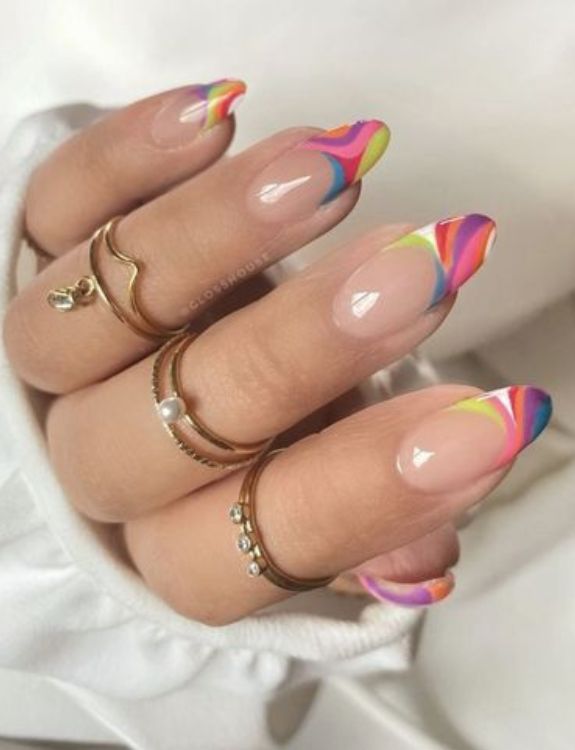 Keep it classy with French nails involving painting the tips in a different shade than the rest of the nail plate. Apart from white use whatever color you want.
2. Ombre Nails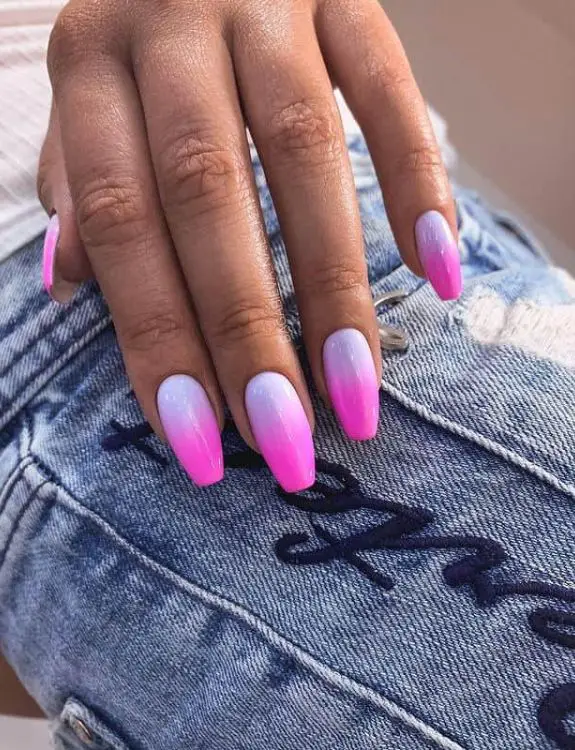 Take any two colors and blend them together using a sponge creating a soft gradient. Finish off with a transparent top coat. Chic!
3. Geometrical Shapes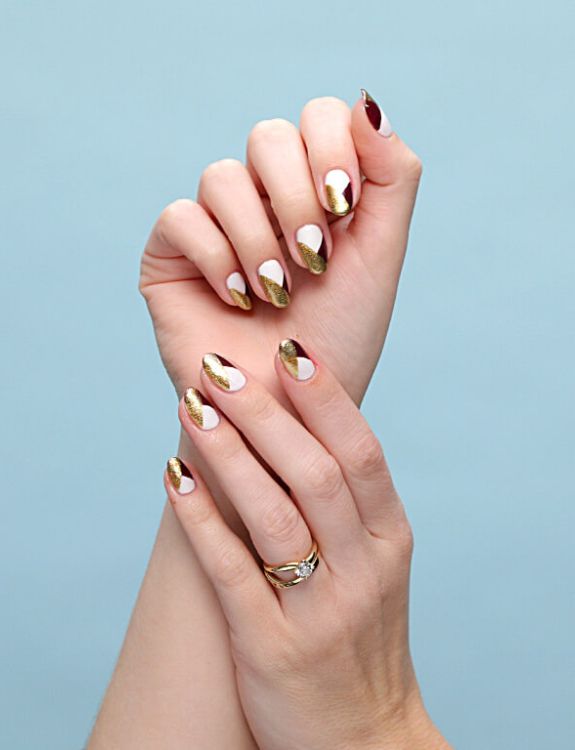 Squares, circles, triangles, try them all using a fine brush! Choose a darker base shade and place lighter shapes on top or vice versa.
4. Polka Dots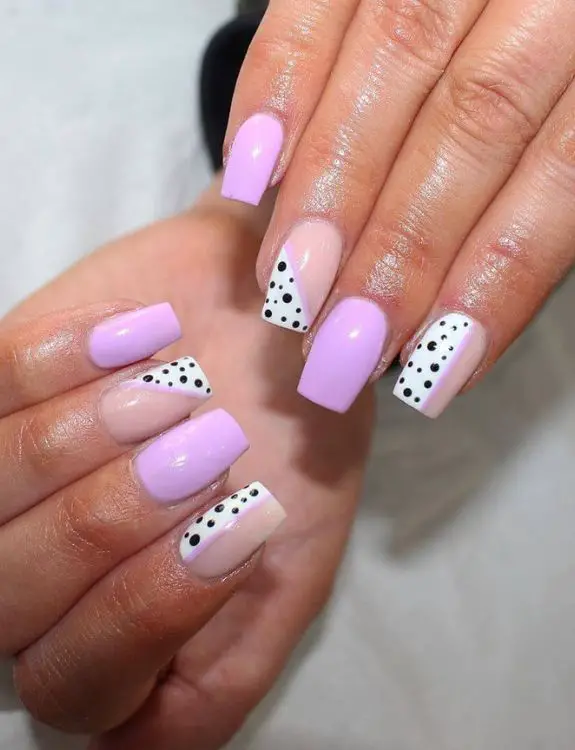 The good old polka dots never go out of style and serve as a cute two toned nail design. Spread the dots all over the nails or limit them to the tips only.
5. Splash and Splatter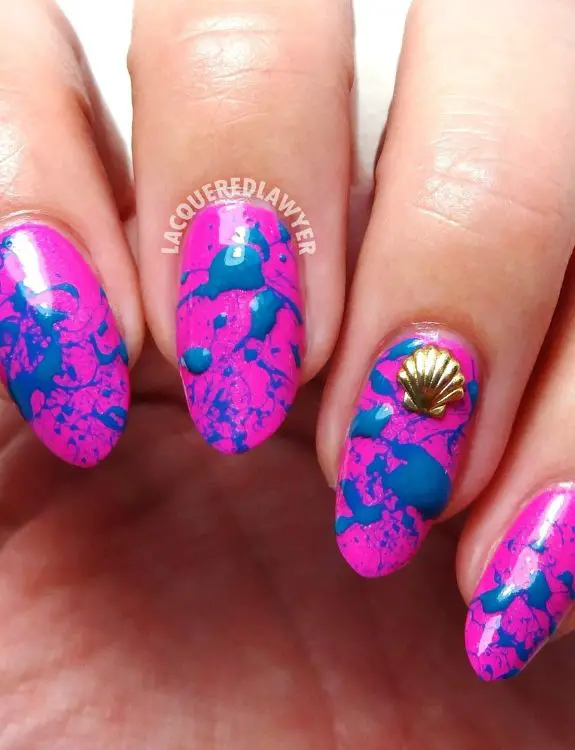 If you are a beginner the easiest way is to splash and splatter one color on the other. Don't worry about the mess as that is actually the target!
6. Add Some Sparkle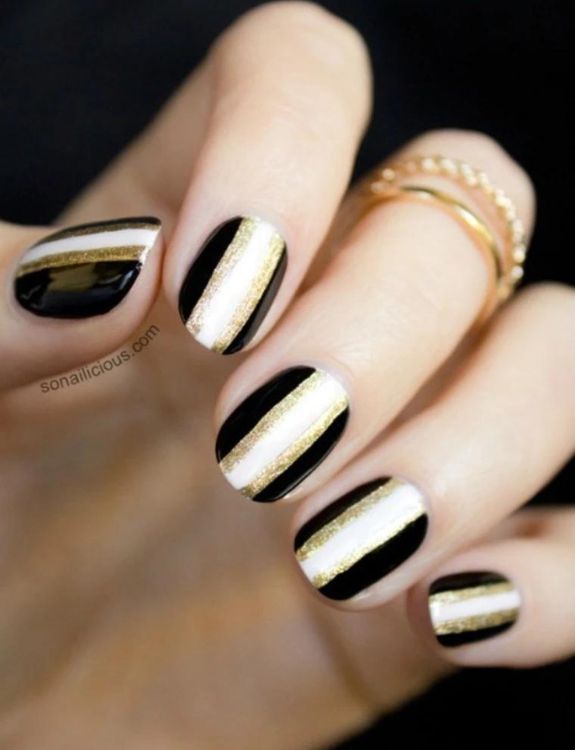 When you just can't think of anything else add some sparkle by grabbing some glitter in any tone and using it as a top coat.
7. Leopard Print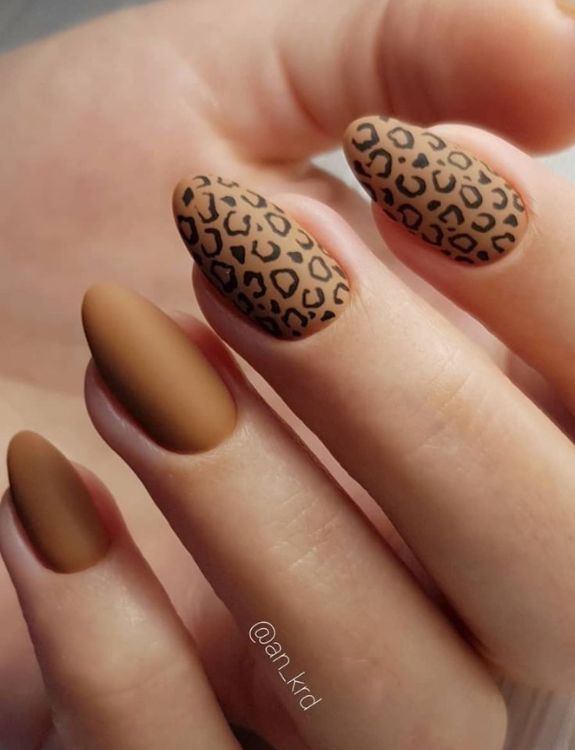 Create tiny U shapes and merge dots together to bring a leopard's skin on your nails. Black polish will give the best results.
8. Cute Decals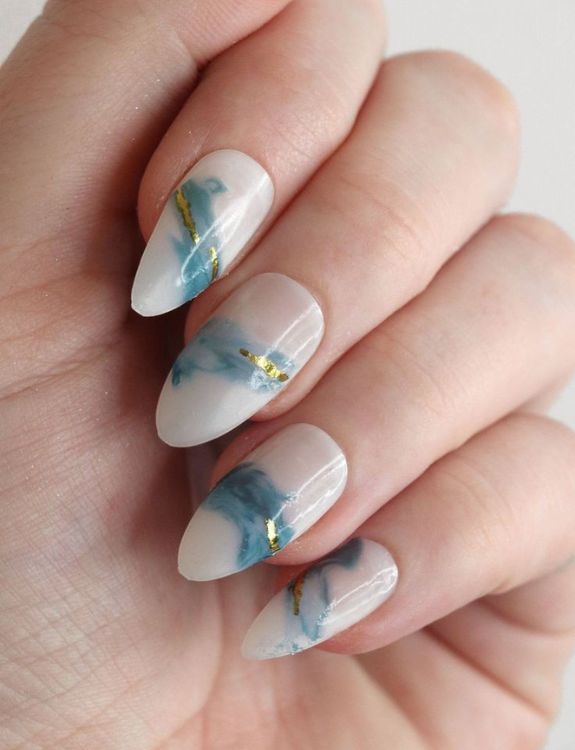 Too clumsy to paint anything? Well, nail decals have got you covered. Select the ones you like and place them on stickers. Easy-breezy!
9. Accessorize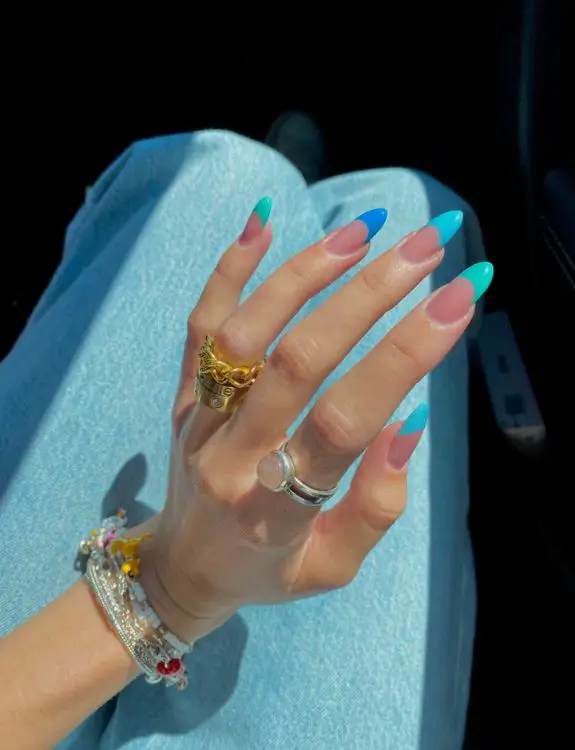 Paint a base coat and add gems, tapes, studs, and whatever else you want on top. Go as far as you want for some extra bling!
10. Accent Nail Design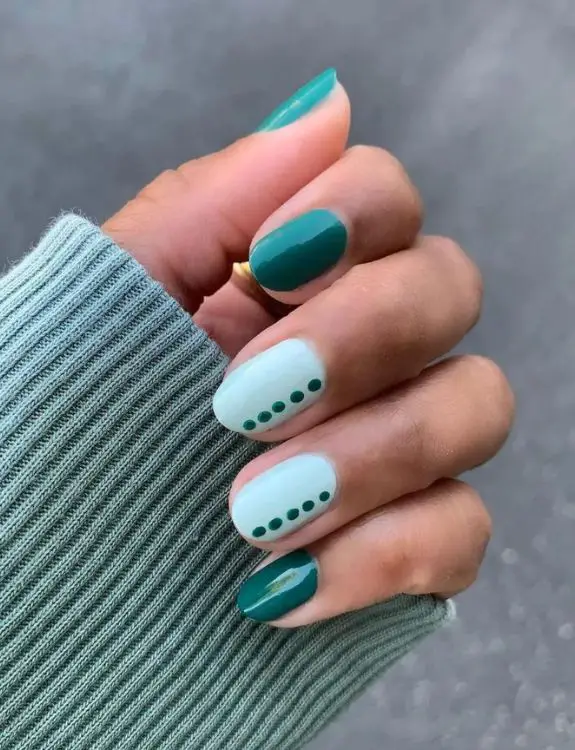 Coat one or two nails in a different tone than the remaining ones for a simple yet stylish two toned nail design.
11. Chrome Magic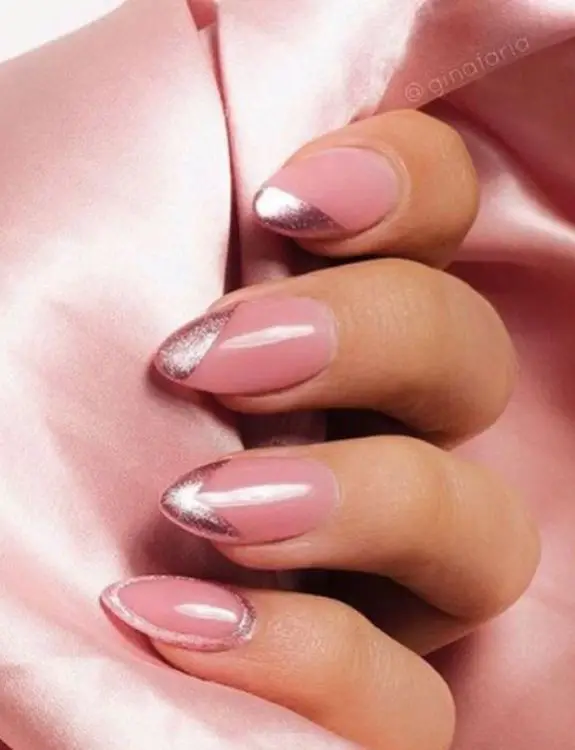 Turn your nails into reflective mirrors with some chrome powder where the shiny shade on top gives just a hint of the color beneath.
12. Jelly Nails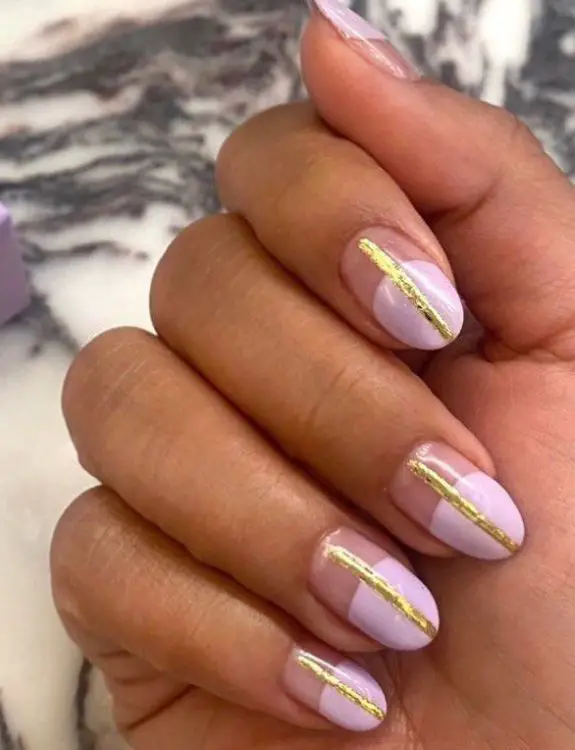 Use a sheer color on top of some glitter or different-colored French tips to transform your nails into yummy jellies!
13. Dark Hues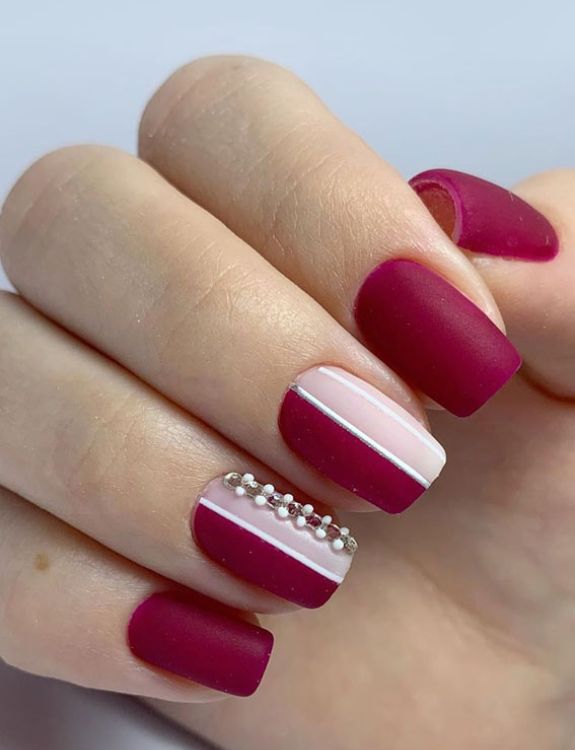 When it comes to dichromatic nails you can choose any two dark lacquers without fretting. Black, blue, green, brown, gray, anything!
14. Light and Bright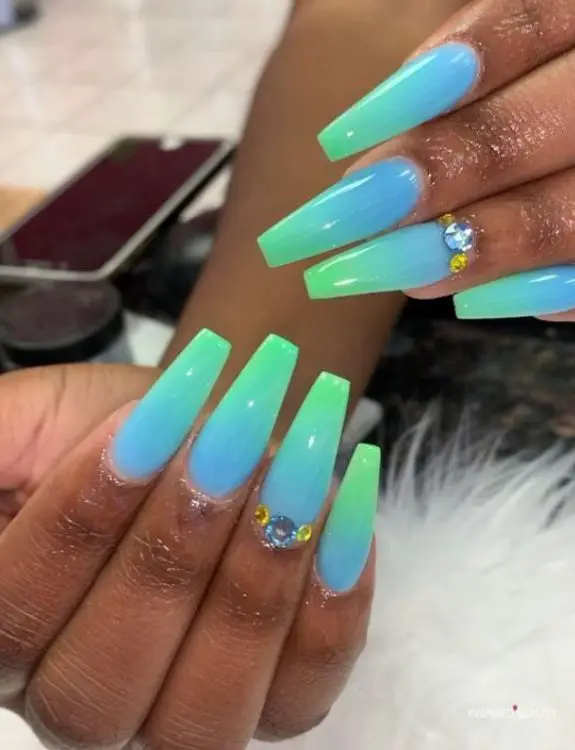 Not a fan of dark hues? Well, there is a wide range of light and bright hues available. Try baby pinks, blues, yellows, and oranges.
15. Horizontal Gradient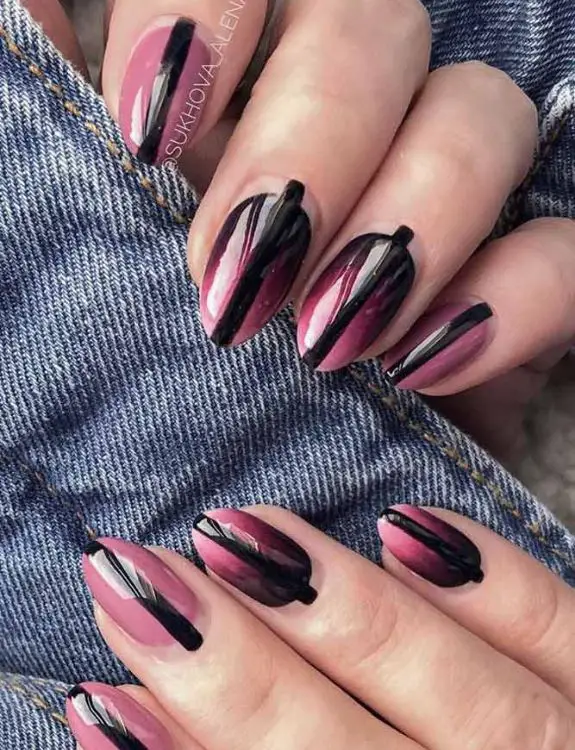 Instead of moving down the nail area produce a unique two toned nail design with a horizontal gradient across the nails. All you need is a good sponge.
16. Fiery Flames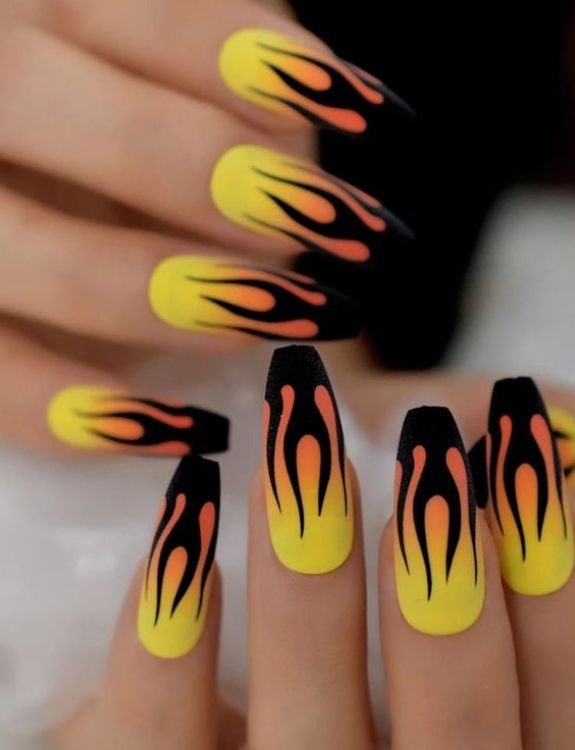 Set those nails on fire with hot flames on the cuticles or the tips. Orange nuances will look the best but you can opt for any color combo instead.
17. Pastel Play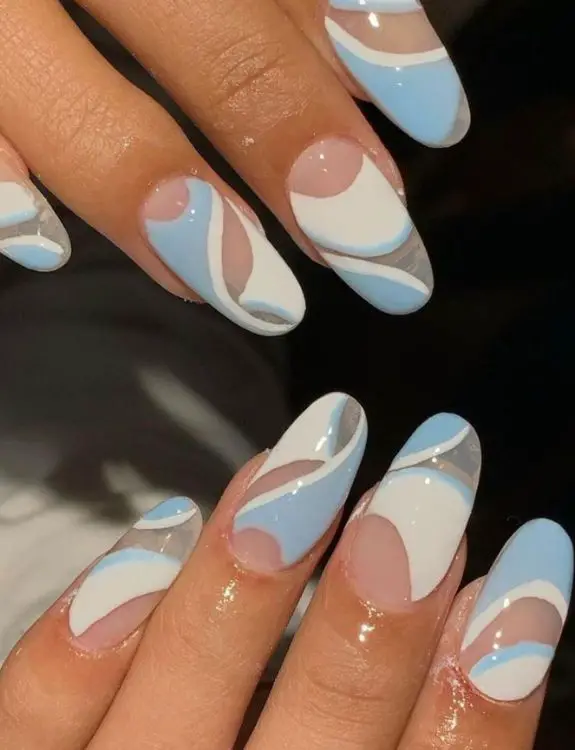 Pastel nails are in full trend this year. They are soft, cute, and dreamy all at the same time. Create any pattern and you will love it.
18. Alternating Tones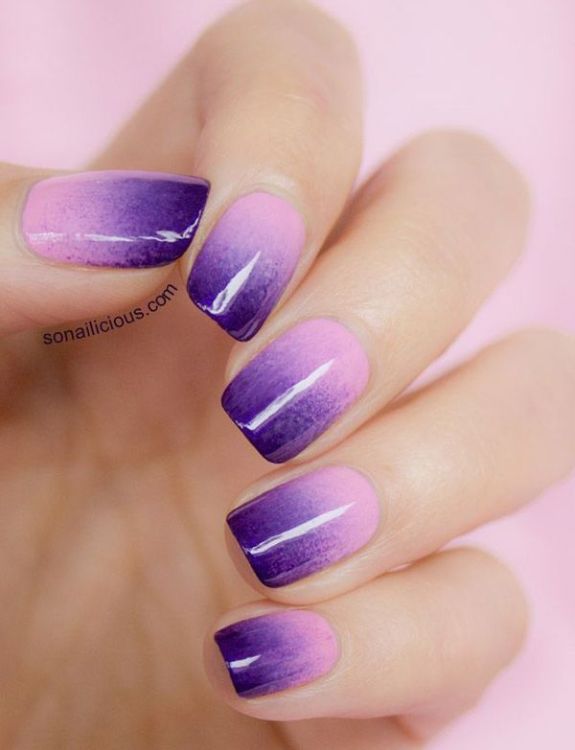 Rather than an accent nail, alternate light nails with darker ones on your hands. Can't get any easier!
19. Adorable Hearts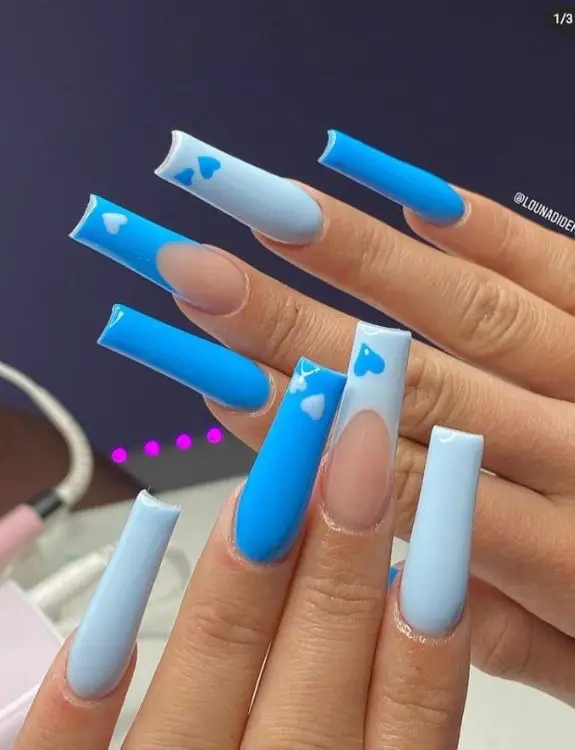 Celebrate the love around you with cute little hearts. Place two dots and drag them together at the base. Voila!
20. Halloween Vibes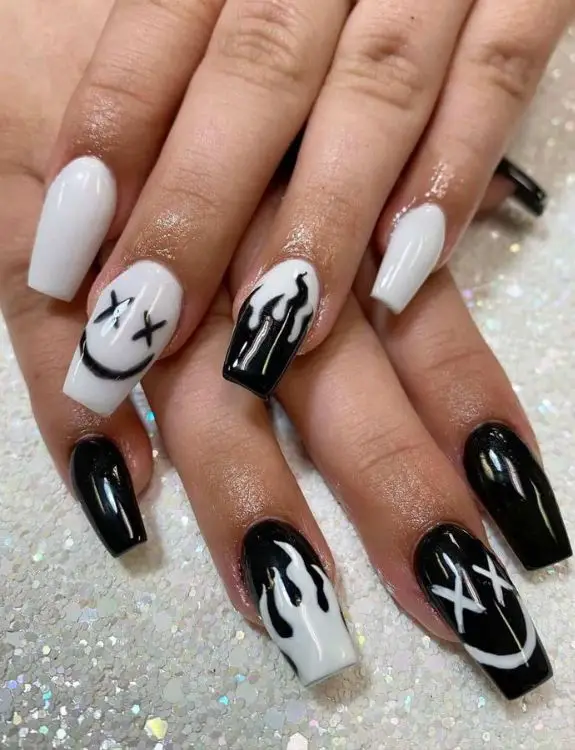 Black pumpkins, bats, spiders, and webs on an orange base or the other way around, you are sure to steal the show this Halloween.
21. Marble Nails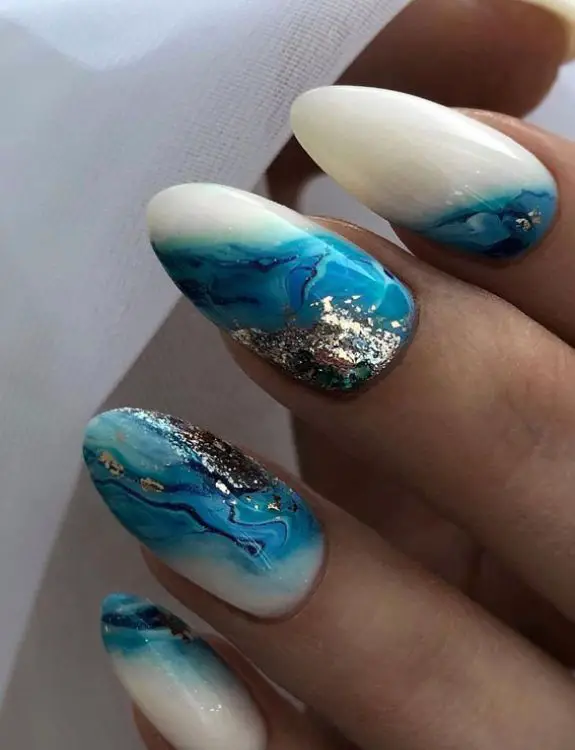 When it comes to two toned nails it is impossible to skip a marble design. Mix some thinner with your second shade or use the water marble technique.
22. Swooped Lines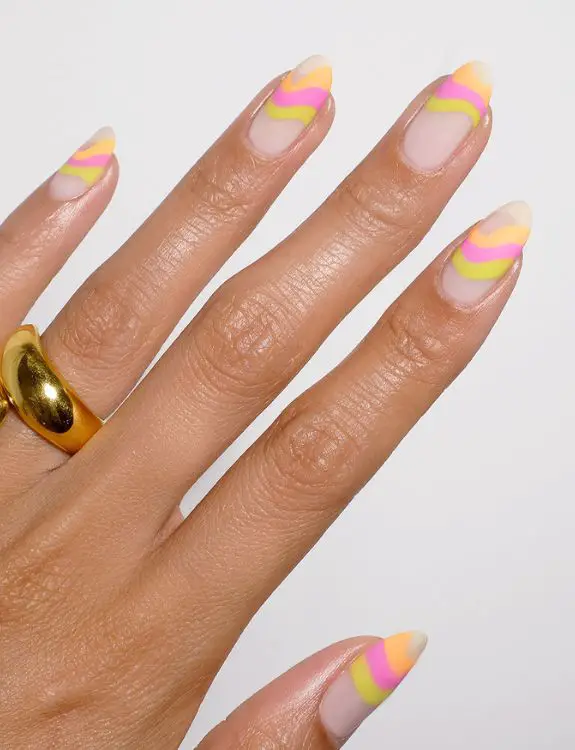 Sometimes all you need is a few lines to drop some jaws. Collect two nail colors, a fine nail art brush, and get started.
23. Checkerboard Nails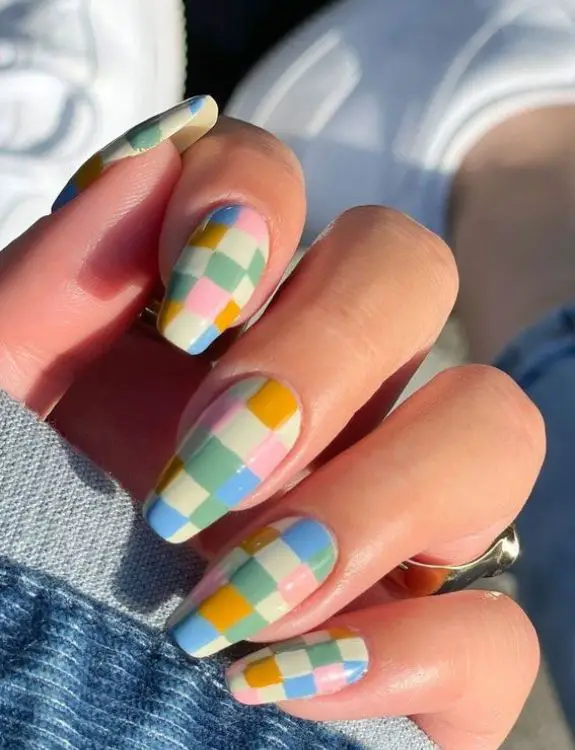 Turn your nails into tiny checkerboards by painting straight vertical and horizontal lines and filling in every alternate square.
24. Half-Moon Design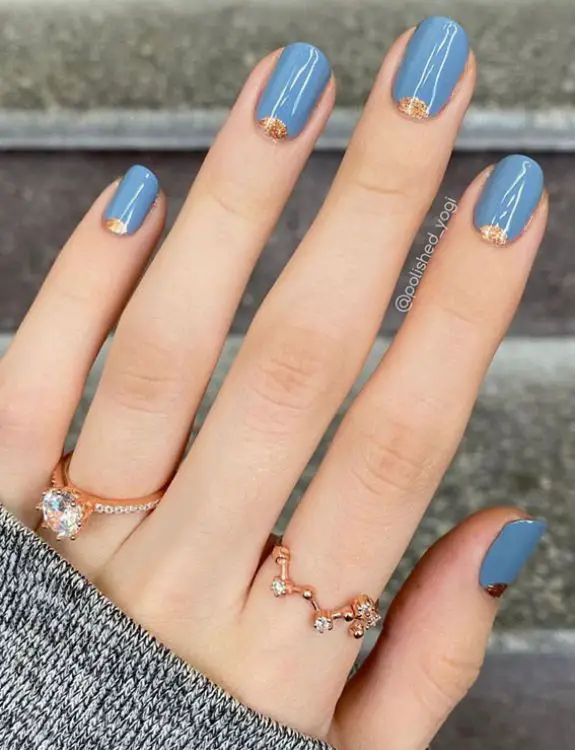 Get some paper reinforcement stickers and place them on the cuticle area to create a half-moon pattern that is sure to attract some attention.
25. Tiny Butterflies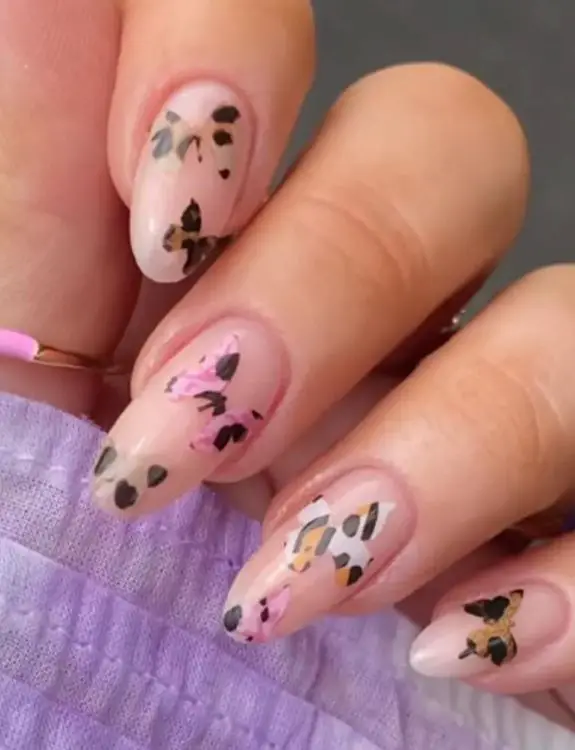 Who doesn't love some butterflies? A nail art stamping plate set will help you out a lot if you find drawing difficult.
26. Floral Pattern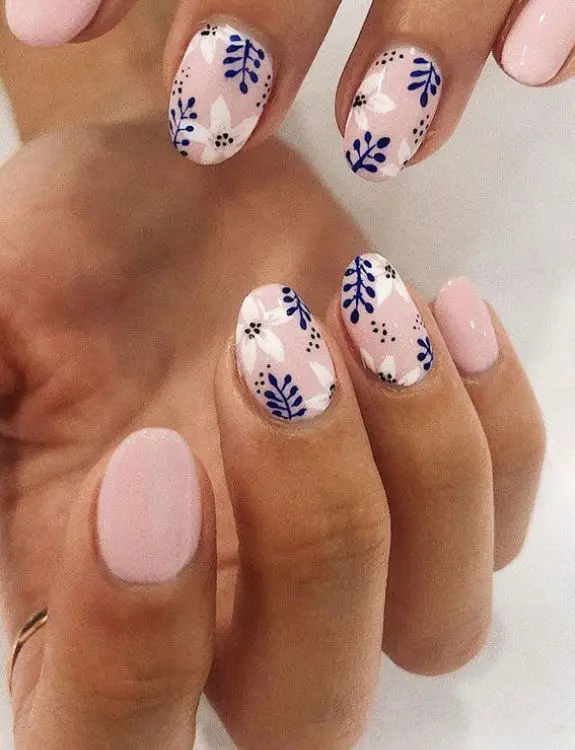 Just like butterflies, flowers look the cutest on both short and long nails. Daisies, roses, tulips, there's so much to create with just two colors!
27. Matte Magic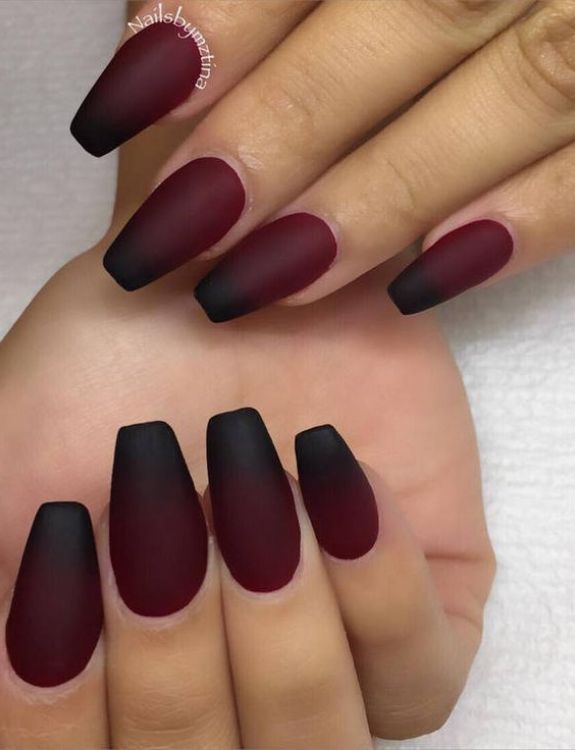 Buy a matte polish and a shiny one belonging to the same color spectrum to turn your nails into the chicest ones of all.
28. Multiple Stars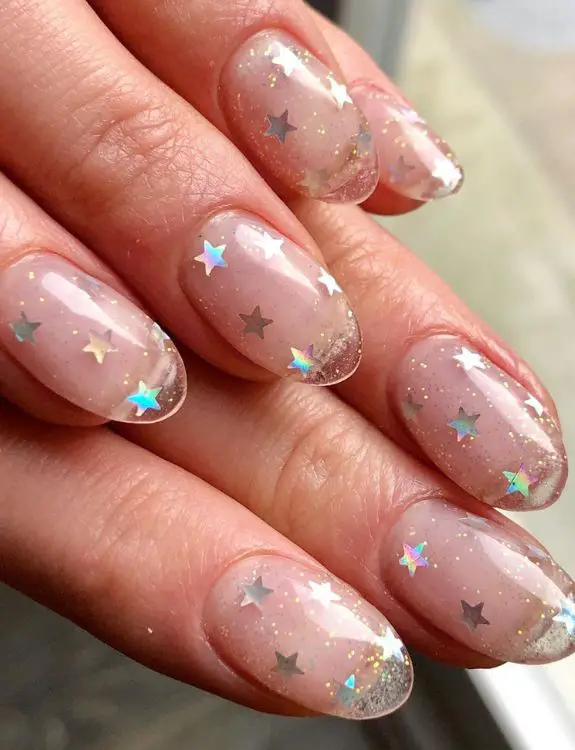 Remember drawing stars during your childhood days? Try the same with a light and dark lacquer to produce a nostalgic two toned nail design.
29. Half-and-Half Nails
Half-and-half nails are basic but equally stylish. Place some tape on your nails to create a neat division between the two hues.
30. Minimalistic Design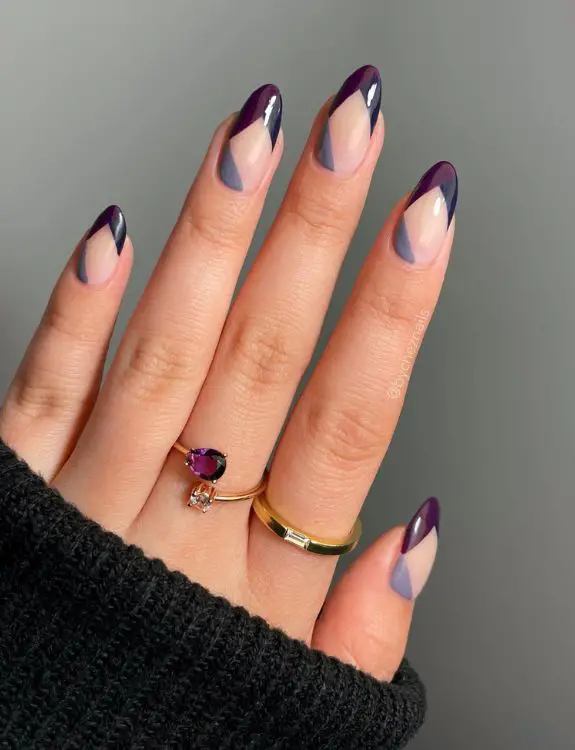 The simpler, the better! Add a single dot, heart, stud, or anything else on the corner of your painted nails, and get stunned by the results.
31. Flickering Foil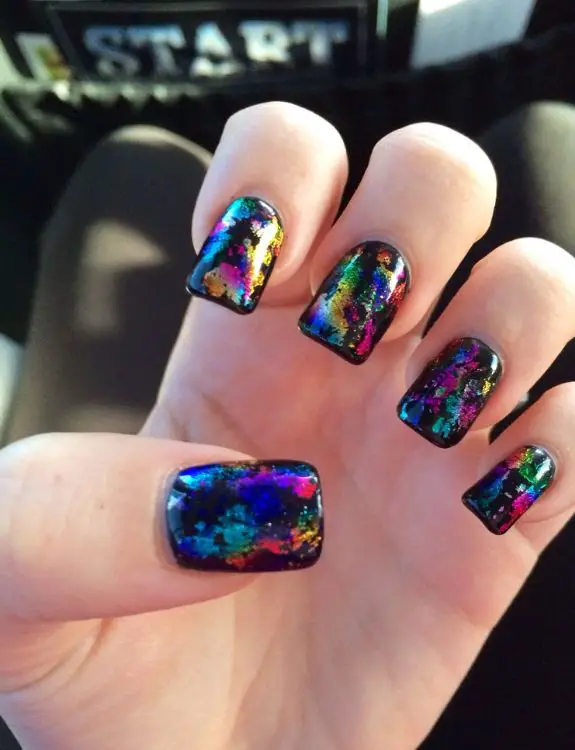 Thinking of refreshing your manicure at home? Use some glimmering nail foil to turn your boring nails into dichromatic masterpieces.
32. Sweater Nails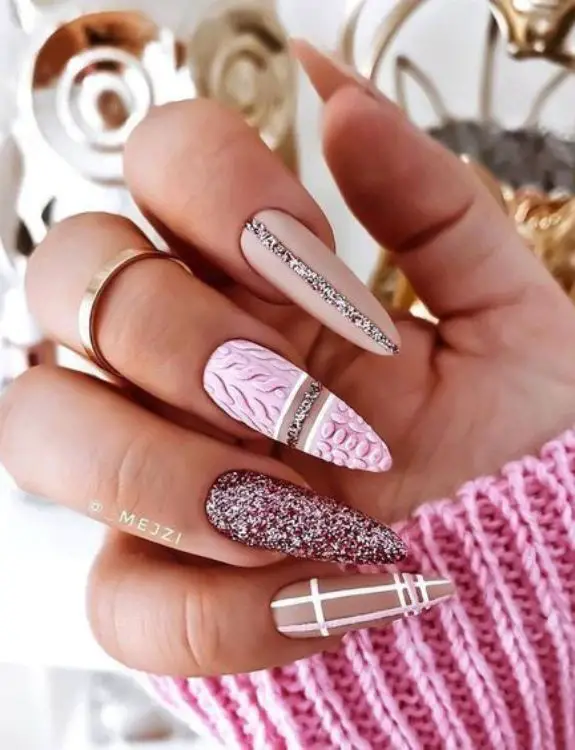 Take out your favorite sweater and recreate its pattern on the nails using gel polish. Top off with clear acrylic powder.
33. Block Pattern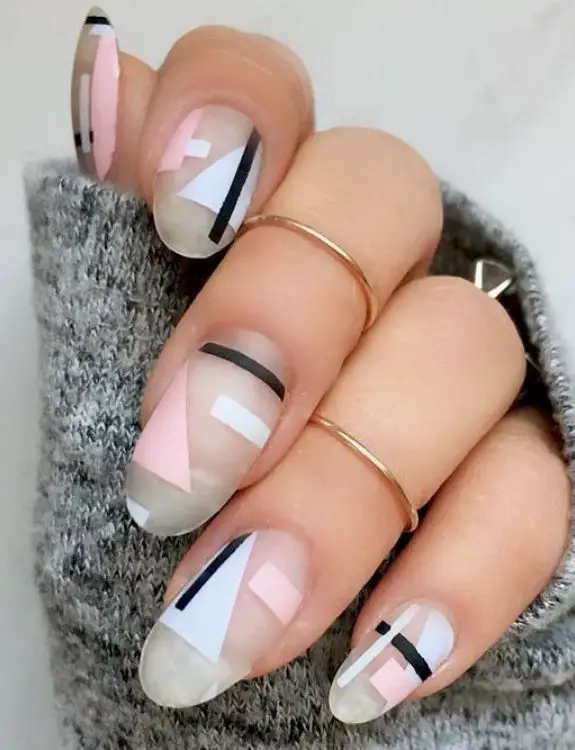 Color blocking is taking over all fashion trends these days and can be done on nails too. Collect some images and try recreating them at home.
34. V tips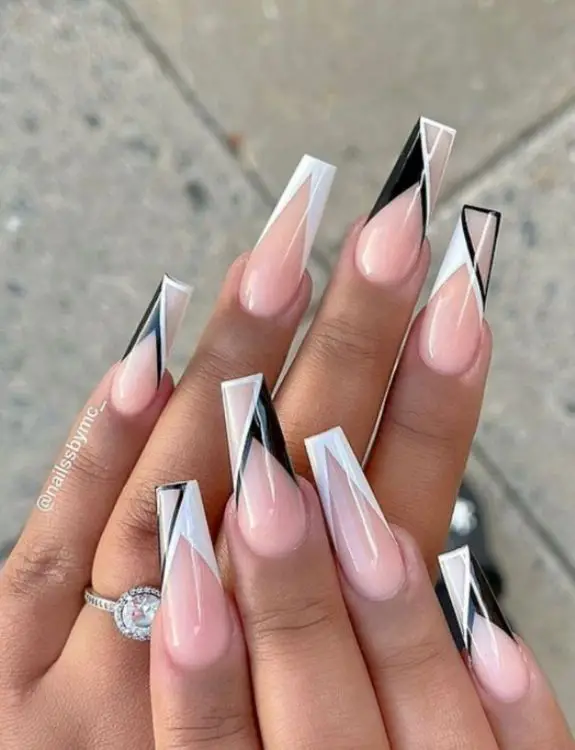 V tips are a modern take on classic French Tips. Paint the edges of your nails creating a sharp triangular shape with any color you like.
35. Magnetic Polish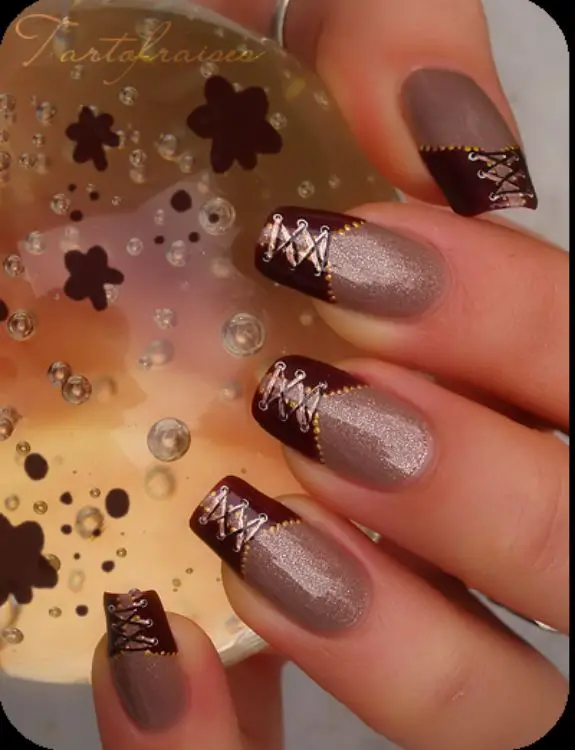 Magnetic nail colors are quite the hype due to the textured patterns they create when activated with a magnet. This is an easy two toned nail design idea to try!
36. Circular Swirls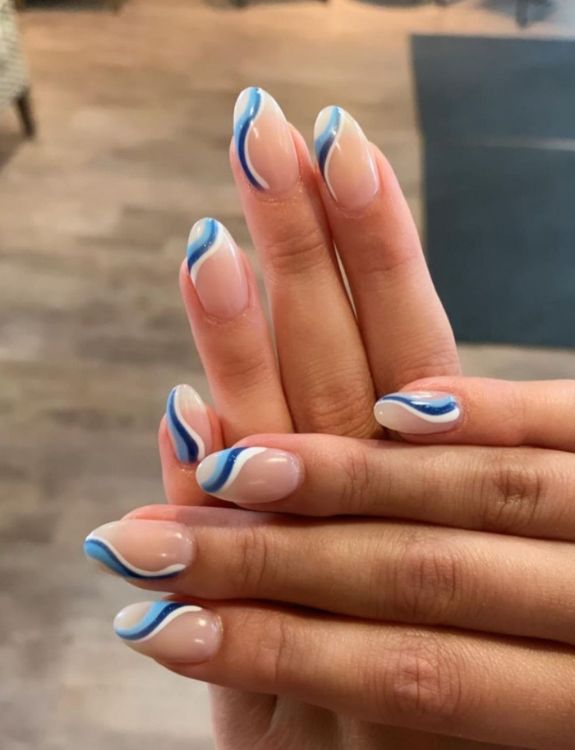 Messy is sexy and so are circular swirls of polish on a light base coat. Dip a fine brush in lacquer and twirl it around carelessly on the nails.
37. Leaf Vines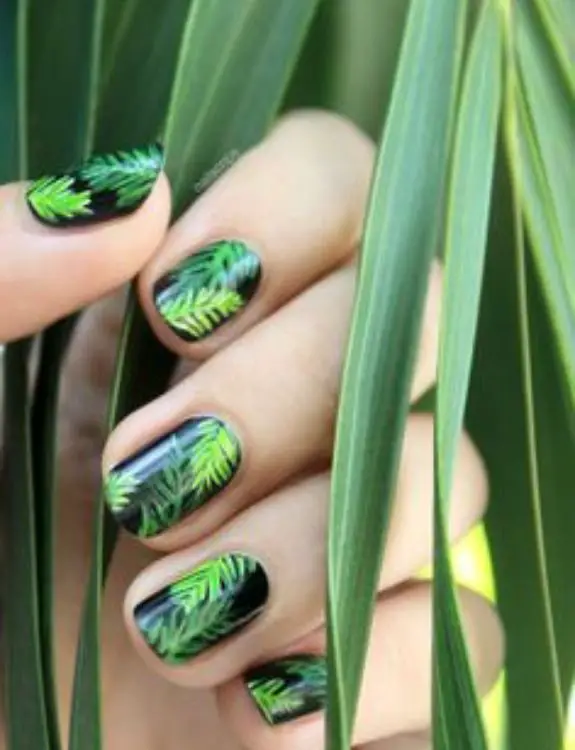 Love nature? Bring some of it on your hands by painting vines and leaves on the nails or use tiny decals instead.
38. Neon Party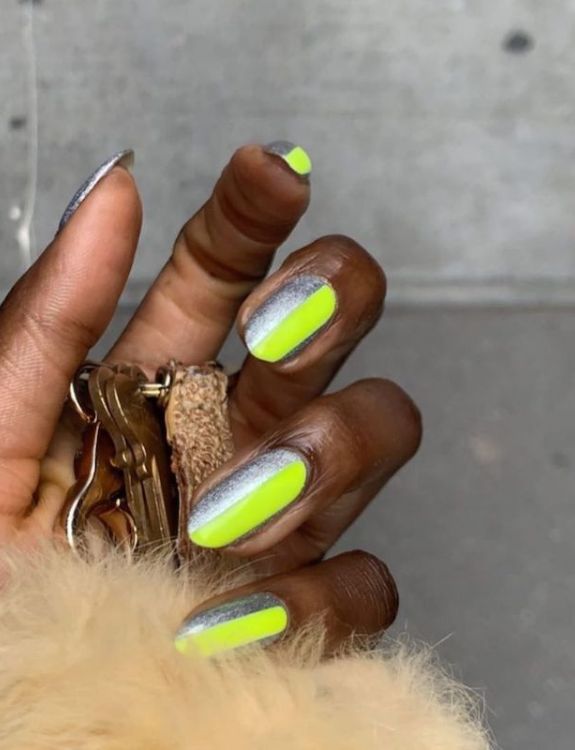 Get hold of the brightest neon colors and produce countless patterns using any two or paint both hands in different tones. Eye-popping, isn't it?
39. Teeny Tiny Animals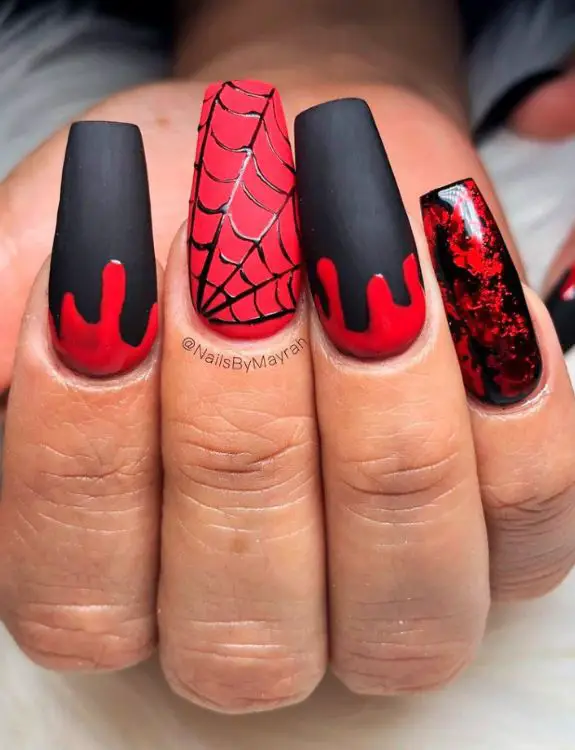 Black cats, brown bears, pink pigs, white rabbits, and so on! There are numberless animals you can create with just two nail lacquers.
40. A Hint of Gold/Silver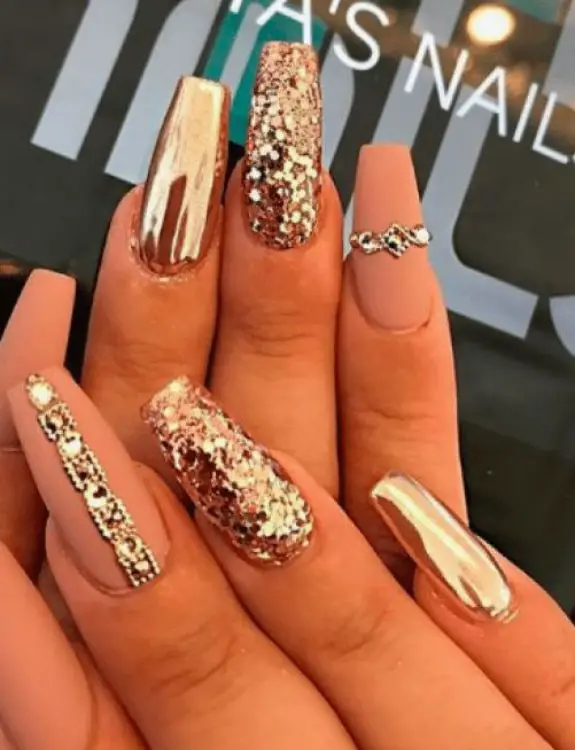 Spice up a dull two toned nail design by adding a hint of silver or gold in between keeping in mind to choose the one that will accent your dress and makeup.
41. Abstract Art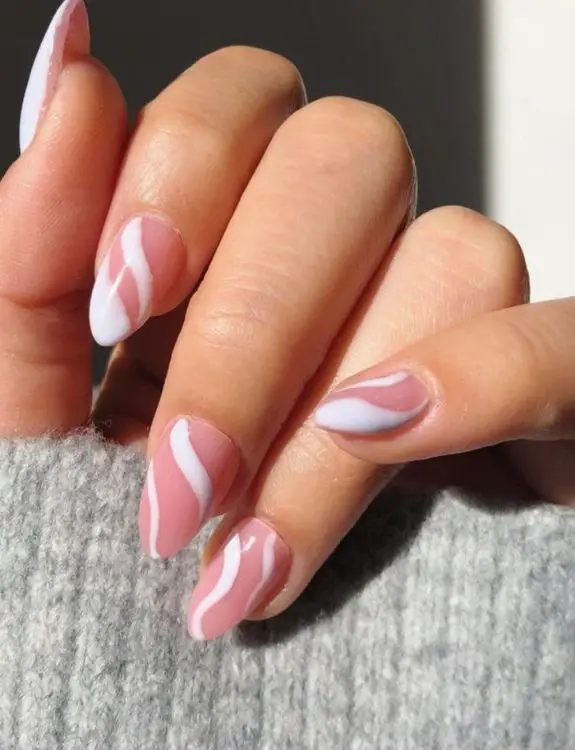 Transform those lifeless nails into tiny pieces of abstract art with irregular swoops, some swipes, and different-sized dots. Distinctive without a doubt!
42. Stamped Pattern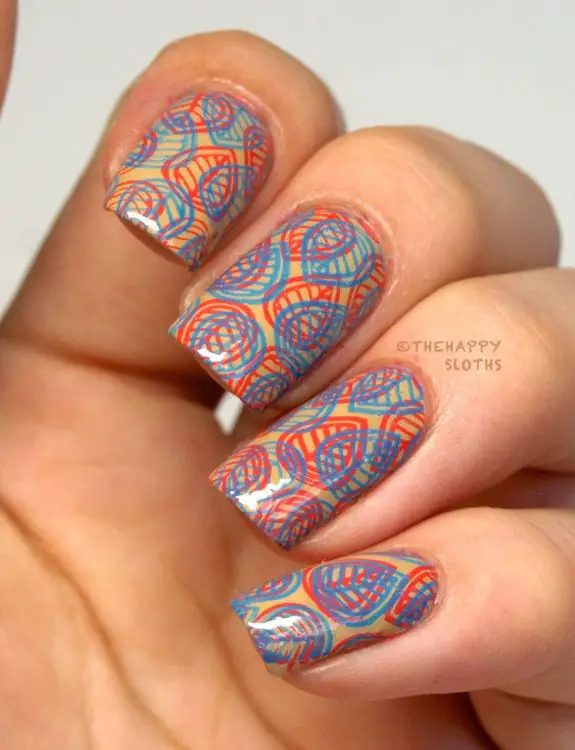 Generate a uniform intricate pattern on the nails using a nail art stamping kit and a silicone sponge to transfer the design effortlessly onto your nails.
43. Add a Smiley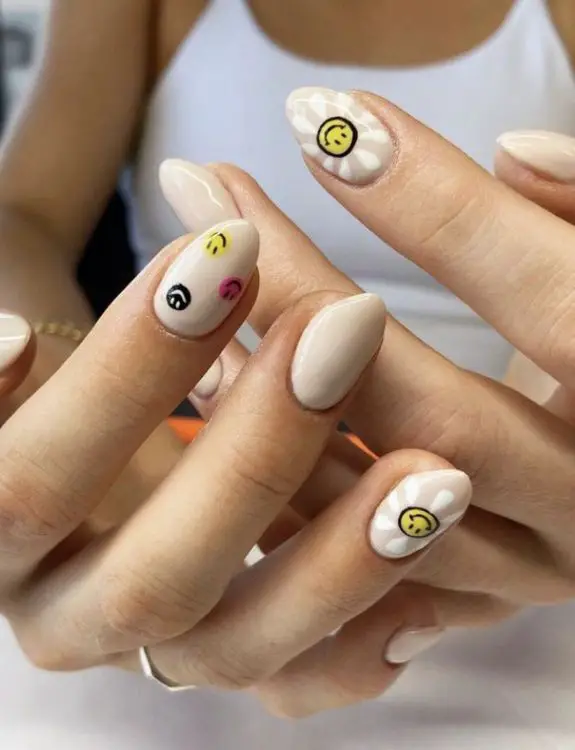 Spread some happiness with these cute two toned nails. Place a dot, enlarge it and add two eyes and a smile. Tada!
44. Floating Clouds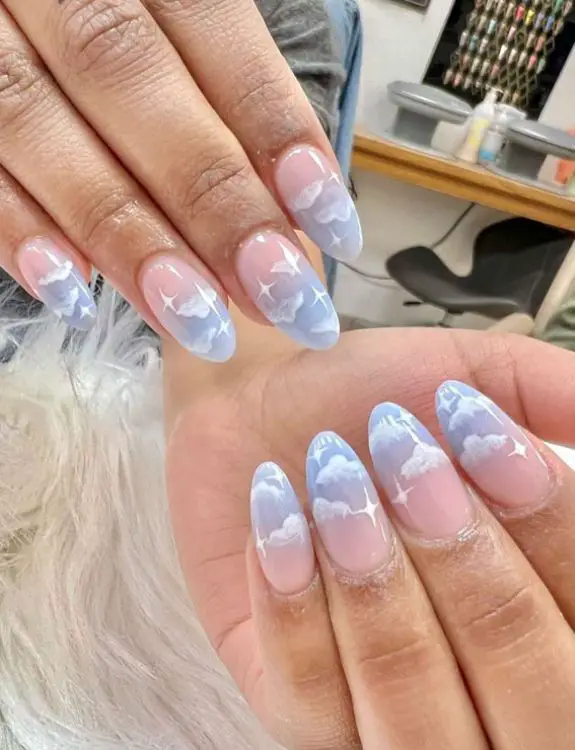 Create floating clouds by adding three to four dots and merging them together. How about adding a sun or moon too?
45. Winter Theme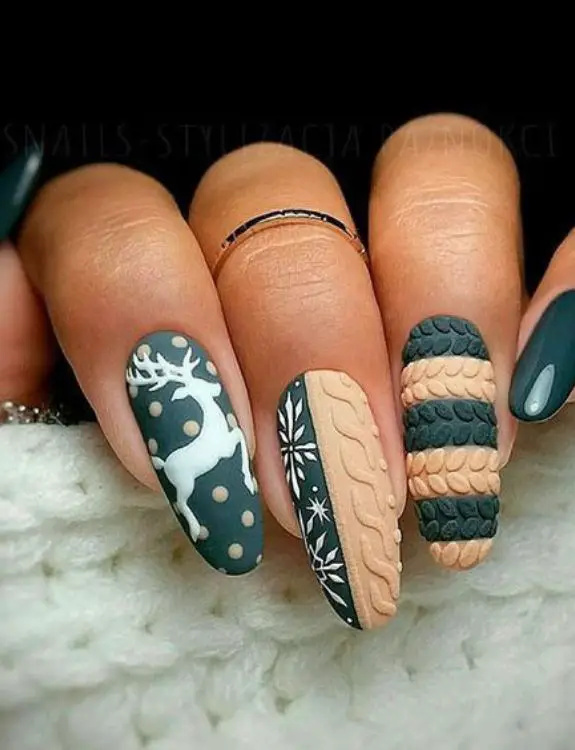 Prep your nails for winter with sparkling snowflakes on a plain base coat. It's just a matter of some lines and dots!
46. Color Pop
Add a pop of color to the nails by opting for the most unconventional color contrasts. The choice is all yours!
47. Fruity Fun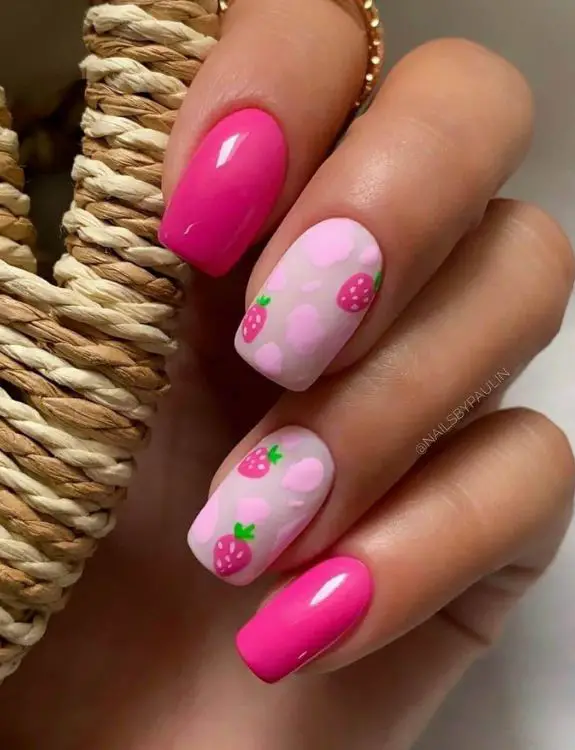 Fruit up your life with some yellow bananas, green kiwis, and red strawberries. Watching some nail art tutorials will surely help you!
48. Shiny Nail Tapes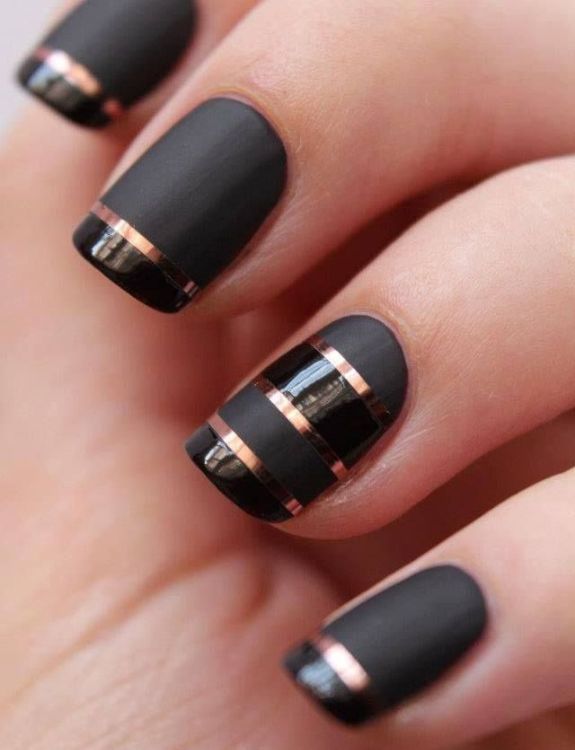 Considering the lazybones out there buy some nail stripping tape and place it in different ways on the nails. Simply wow!
49. Zigzag Lines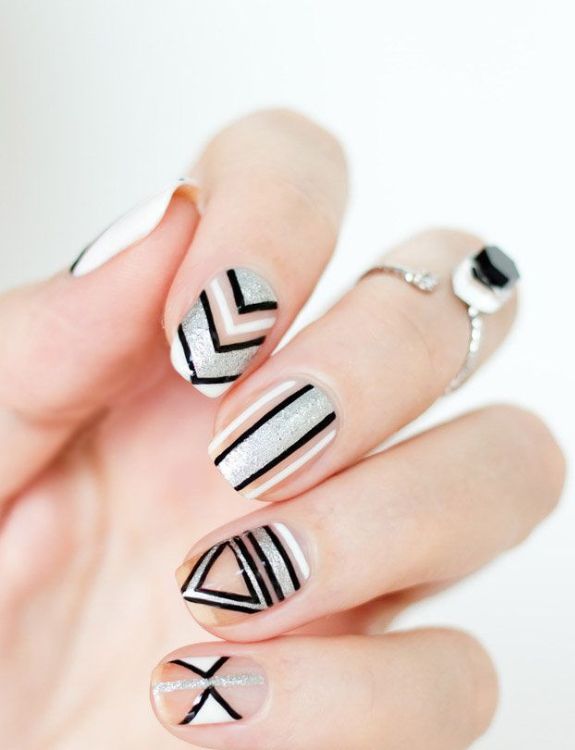 Zigzag lines just look gorgeous. Cut out some tape, use a stamping kit, or draw the lines yourself. Try two colors on a transparent base too.
50. Dripping Drops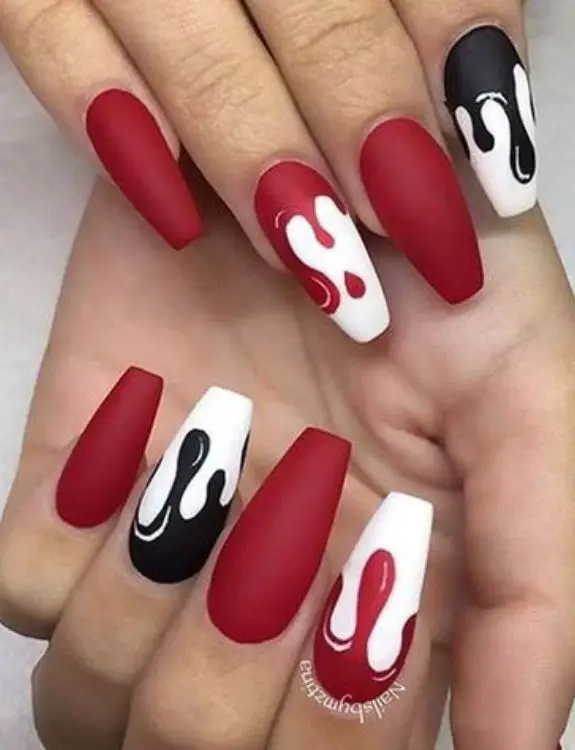 Enjoy the summer with a cool two toned dripping nail design. Use dotting tools in various sizes to create the drip of your dreams.
There you have it, ladies! All possible nail designs you can create with merely two lacquers of your choice. Whether you are looking for bold complex patterns or simple elegant styles these 50 two toned nail designs have got you covered. So, what's the waiting for? Grab your nail paints and let's get started!