xResolver is the largest web-based database of IP addresses of gamers on Xbox and PlayStation. This post will explain its use and some popular alternatives.
If you enjoy playing games on PlayStation and Xbox, you may want to know more about the gamers against whom you compete.
You can do so by using their Gamertag and running it through xResolver. The web-based database of xResolver will give you the IP address of the said gamer.
You can also use other alternatives of this database to reach the identity information. We shall discuss the usage process of xResolver as well as some alternatives that can help you with your search.
What is xResolver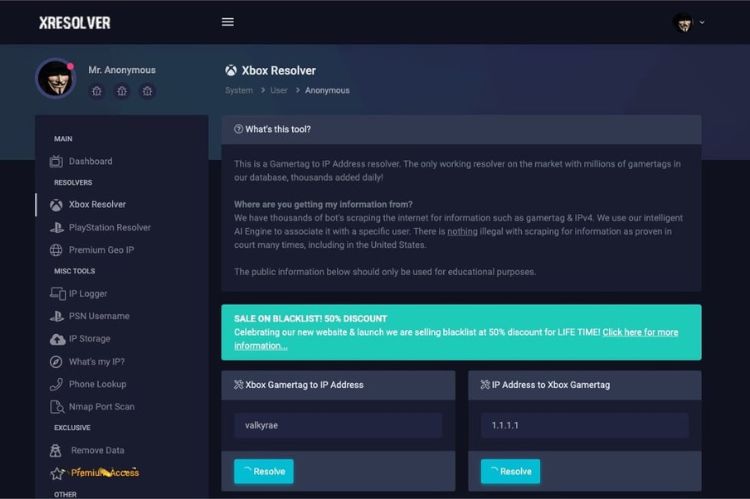 We can see from its name that xResolver is there to resolve the identity of gamers on Xbox. Besides being called as xResolver – short for Xbox resolver – the database is also oftentimes known as PlayStation resolver.
Needless to say, you need the Gamertag of said person to reach their information. The xResolver relies on its software to collect information such as the IP address, ISP address, and username of the player. Currently, it claims to have 25 million accounts resolved. Plus, it keeps adding more accounts daily.
Why would you want to find the identity of your fellow players? Players often face the need to identify fellow gamers to protect against hacker attacks.
You will know which of your fellows are hackers allowing you to restrict contact with them. But this advantage comes with a downside.
This database also collects your information making it available to all users including hackers. In the end, attacks on your device will increase.
Note that searching users' information is not unethical or illegal because the information is public from the start. But you should be sure that you only use it for ethical reasons. If you don't want the database to present your information, you can do so by paying some money for the service.
But this will impact the free information aspect of the gaming world and is not recommended. It is compatible with PlayStation as well as Xbox consoles and offers data including geolocation, IP address, and ISP address.
How to Use xResolver
The most prominent feature of this premium IP grabber tool is its ease of navigation and the second most obvious feature is its reliability. Here is how you can search the IP address or Gamertag of a person:
Get to the homepage of the database.
Use the left panel to select either Xbox resolver or PlayStation resolver.
Next, you have to type the Gamertag under the section of Gamertag to IP address. Or if you want to resolve it in reverse, you can type the given IP address in the IP Address to Gamertag section.
The last step is to click resolve. The database will process your information and present a solution promptly.
xResolver Alternatives
Note that xResolver is a paid tool that requires you to pay a monthly subscription to access its services. You can avoid this fee by using free alternatives. If you choose free options, expect slow service and other technical issues. Here are all xResolver alternatives you can try.
1. OctoSniff
OctoSniff helps you find IP addresses for PlayStation gamers and Xboxers and many other consoles. Just like xResolver, its popularity is its biggest advantage.
This popularity makes its use easier for users who get an easy installation and loads of tutorials for using this tool.
The tool offers extensive search options namely geo IP locator, packet filters, and IP to username function. It can also help you with your DDoS protection needs by looking up relevant users.
It's not free to use but you can try its features with a free trial before committing to the premium package.
2. Xbox One Booter
When your purpose to find the identity is more than safeguarding against attacks, you use Xbox IP grabbers. But if you are looking to attack your competitor to fail him, you can use a specialized tool like Xbox One Booter. It can execute layer 4 and layer sever attacks on your opponent.
Among the IP grabbing services, you can use it to collect information about the city and username of the user. Although the tool is only compatible with Xboxer, it's still a deal as you can use it without cost.
3. PS4 Booter
PS4 Booter is the PlayStation alternative for Xbox One Booter. It will extract the IP address of the fellow player.
And if you are feeling competitive, you can use the tool to attack the opponent and boot him offline. Just like the previous IP booter, this one is free to use as it's offered by the same developer.
Both PS4 Booter and Xbox One Booter have one common advantage over other tools that help players boot their fellows offline: these tools are reasonably famous.
This popularity means that you get more tutorials and tips to use these tools than other similar tools. From these tutorials, you will know not only how to boot other players offline but also to protect yourself from these DDoS attacks.
4. Lanc Remastered PCPS
This tool is a close alternative to xResolver. Its specialty is to scrap IP addresses of fellow gamers using hundreds and thousands of bots.
You can use the gamers' usernames and Gamertags to unearth needed information. You can use it across multiple platforms free of cost. Search users' information for PSN users and Xboxers.
Users favor this tool over other similar solutions because of the high reliability it offers. We can see that the developer takes care of using a powerful system to scrape information.
At the same time, this system makes the information promptly available with minimal technical glitches and hiccups. Installation and use are easy and intuitive.
You don't have to be connected to the internet to use the tool. Instead, use it whenever you are gaming whether online or offline.
5. Console Sniffer
Most users of xResolver claim that the tool is too costly. You have to commit to monthly subscription payments that can add up quickly. Still, you use it to benefit from its reliability.
Console sniffer promises the same level of reliability but at a lower cost. You can download the tool with a one-time payment of $20 and use it for a lifetime.
The tool uses thousands of bots to scrape relevant data and provide you with accurate information. It will collect data fields including geolocation, ISP, and IP addresses.
It is compatible with Windows. Note that the solution is best for multiplayer consoles and you cannot use it with other console games.
And if you want to access other players' identity information without giving away yours, you can also use VPN in combination with Console Sniffer.
6. Psycho Coding
In essence, Psycho Coding is a VPN service. But it also works to pull IP addresses of gamers on console games. It allows numerous data sets to the users.
These include IP addresses, ISP addresses, usernames, and geolocation of fellow players. It also helps you in protecting your virtual identity allowing you to prevent DDoS attacks. You also get some much-needed Xbox filters with this tool.
You get all these protections from Psycho Coding after paying a nominal amount for the VPN and IP grabbing service subscription. Plus, the setup is easy and intuitive and you can rely on the results.
The most prominent feature you will notice about this service is compactness. It works as a VPN and then helps you with aggressive and proactive gaming strategies by telling you insights into your opponents. And you don't have to navigate many apps and tools to get the result.
7. XboxReplay
The foundational offers of this tool include searching for information about your opponent. Plus, you get to use it to search your Xbox Replay that are shared online.
Use it to search clips of your opponents' gaming, getting an insight into their strategies and methodology. And you get all these options and services completely free of cost.
The tool is easy to use. You can use it online. You may worry that this free tool will be ridden with ads. This assumption can't be farther from the truth. You can search the clips you want and the identity information you request from this platform in an instant.
Take Away
xResolver is a web-based database that collects information from Xbox and PlayStation gamers for its users. You can insert Gamertag in it and it will resolve the IP address of the said Gamertag upon request.
The tool comes in handy when you want to know the identity of your fellow gamer but you have to pay a price for it. Unfortunately, its cost is higher than the cost of many similar tools.
If you are looking for an alternative to finding the IP address of your competitor, this post has listed seven IP grabbers to use.